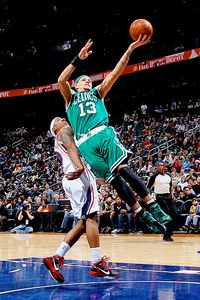 Kevin C. Cox/Getty Images
Improved bench play and a healthy Delonte West are no coincidence.At one point during the middle of the season, when the Celtics' bench was in a constant state of flux due to injuries, the player whose return was receiving the most hype was Delonte West, and for good reason.
The reserve guard, who's battled a fractured right wrist and a bone chip in his right ankle, was expected to provide stability and veteran poise in a jack-of-all-trades role off the bench, which everyone believed would help the second unit find that all-important measure of consistency.
West returned from his right ankle woes just over two weeks ago, and has played in a season-high 13 consecutive games. In his last five, he's come as advertised as the guy who does a little bit of everything. During that span, West has averaged 7.4 points on 57.1 percent shooting from the field and 62.5 percent from 3-point nation, to go along with 1.6 rebounds and 3.0 assists. In each of those games, West has done something that accentuates his overall value, whether it's been timely scoring, getting his teammates involved, or much-needed defense.
Against the Hawks on April 1, West dropped 10 points and added five assists, but his efforts on defense were what stuck out the most. In the opening minutes of the second quarter, he rose up and rejected a Jeff Teague 3-point field goal, kept the ball inbounds, and came close to converting a fastbreak layup on the other end. Moments later, he tallied a deflection (one of a head coach's most important defensive stats) as he tipped a Jamal Crawford pass out of bounds. Later, midway through the third quarter, he stuffed the 6-foot-10 Al Horford on a layup attempt after the Hawks broke out in transition.
He followed that effort up with a healthy balance of scoring and passing against the Pistons on April 3. He continued to re-integrate his step-back jump shot into his offensive arsenal, and even scored when he didn't mean to. Midway through the second quarter he threw an alley-oop lob from beyond the 3-point arc to Jeff Green that instead sailed towards the hoop and rifled through the net off the glass, which drew a "I didn't mean to, but I'll take it" shrug from West.
But perhaps his best overall basketball play came late in the third quarter that night as the Celtics were pulling away from Detroit. He found himself with an open look at a 3-pointer from the right wing, but chose instead to fire a pass inside to a wide-open Kevin Garnett, who converted an easy two-handed dunk. It's that type of veteran savvy that the Celtics are counting on from West.
Against the Bulls on Thursday, it was West's offense that proved to be most crucial. Facing an 11-point deficit less than two minutes into the second quarter, West brought the Celtics back to within nine with his patented step-back jump shot from the left wing, and three minutes later, he buried a 3-pointer from the right corner, slicing Chicago's lead to just four. West finished Thursday's 97-81 loss with nine points on 4-of-7 shooting, brought down only by the three turnovers he committed.
Having West back and contributing certainly bodes well for the Celtics with the playoffs steadily approaching. On top of his own individual numbers, he's served as a mainstay of Boston's new-look second unit, with fellow teammates Ray Allen, Jeff Green, Glen Davis, and Nenad Krstic filling in around him. The group has put together solid back-to-back efforts, with West helping to spearhead the needed production on both sides of the ball.
The Celtics are at a juncture of the season where consistency counts, and now that West has been able to play an extended stretch of games, he's -- as expected -- providing exactly that.
Greg Payne is a student intern for ESPNBoston.com