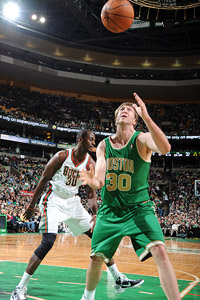 Brian Babineau/NBAE/Getty
Troy Murphy scrambles to haul in a rebound.BOSTON -- Celtics forward Troy Murphy had played a total of six minutes in the two games prior to Friday's tilt with the Washington Wizards, but that lack of playing time only encouraged him to take advantage of minutes when they were available. As fate would have it, Celtics coach Doc Rivers held center Jermaine O'Neal out of Friday's game as he continues to work his way back from left knee surgery and relied on Murphy as one of his primary backup big men.
Murphy logged 15 minutes in the Celtics' 104-88 victory over the Wizards, good for his highest minute total since March 18, when he took the floor for 15 minutes in a loss to the Houston Rockets. He made the most of his opportunity, as he registered four points, two rebounds, and a steal, while playing with an aggressiveness not previously seen out of the 10-year veteran.
"It [was] great," Murphy said of playing extra minutes. "Any time you get a chance to get out there and get up and down is fantastic."
While known primarily as a 3-point shooter and a rebounder, Murphy didn't hesitate to put the ball on the floor and attack the basket on Friday. In fact, that's how he registered his two field goals.
Less than two minutes into the second frame, Murphy held the ball at the top of the key and drove to the hoop against Washington forward Yi Jianlian, before unleashing a vicious spin move and finishing at the rim with a left-handed scoop shot.
Later in the third quarter, Murphy once again drove left, upfaked amongst a host of Washington defenders, missed his initial shot attempt, but stayed with the play and tipped in his own miss, giving the Celtics a six-point lead at the time.
Murphy said after the game he was focused on playing with an aggressive mindset.
"I'm just figuring things out in the offense and figuring out where the spots are that I can make those kind of plays," he said. "So when I get that opportunity I want to take it."
Since joining the Celtics in early March, Murphy has yet to find consistent playing time, and his initial efforts to get acclimated to the system so that he could garner more minutes were significantly hindered by a right ankle sprain he suffered in practice on March 24.
"I'm still learning the reads and stuff like that," said Murphy. "It takes a little bit of time, and spraining my ankle didn't really help the situation. But I'm getting better."
Murphy missed six consecutive games after the ankle sprain, and when he returned to the lineup on Tuesday against the Philadelphia 76ers, he played just three minutes, and matched that total on Thursday in a loss to the Chicago Bulls.
"I mean, it's hard, but it is what it is," Murphy said of playing inconsistent minutes. "[I'm] just trying to get better and help out."
While Murphy would surely welcome more minutes in an effort to establish a rhythm before the playoffs begin, he said he knew when he signed with the Celtics in early March that his floor time might be limited.
"I want to play and I knew coming in that there were going to be limited opportunities, but I wanted to be a part of this team and felt this team could go far," Murphy said. "I knew this kind of stuff was going to happen coming here. I'm just happy to be here."
Greg Payne is a student intern for ESPNBoston.com