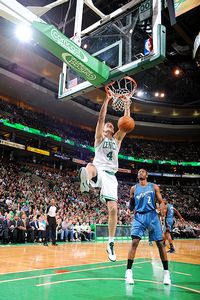 Brian Babineau/NBAE/Getty
Nenad Krstic throws down a two-handed jam against the Washington Wizards.BOSTON -- Little more than two minutes had passed during the Celtics' 104-88 victory over the Washington Wizards on Friday when Nenad Krstic rose up for an easy two-handed dunk on the right side off of a feed from a cutting Ray Allen. Little did he know the play foreshadowed the night he was about to have.
Krstic, earning a spot start with Jermaine O'Neal receiving a maintenance day, registered 17 points on 6-of-9 shooting in Friday's victory, with the majority of those points coming on wide-open dunks in the paint off of feeds from his teammates.
Less than three minutes after his first dunk, Krstic went up for another, this time after Rajon Rondo streaked down the left side and fed him the ball with a slick wrap-around pass through Washington's interior defense.
Krstic added two more dunks before halftime -- one from Kevin Garnett (who tipped a missed shot out of the air to him) and the other from Rondo (once again, who drove into the lane and drew the attention of Wizards center JaVale McGee, leaving Krstic wide-open for the slam).
Krstic was the prime benefactor of the Celtics' renewed effort to attack the basket and share the ball -- something they were unable to accomplish to the degree they wanted in Thursday's 97-81 loss to the Chicago Bulls. Boston finished Friday's game with 25 assists on 36 made field goals. Of the six shots Krstic made on Friday, five were assisted on.
It wasn't until the game was already decided in the waning minutes of the fourth quarter that Washington was able to properly contest one of Krstic's prime looks at the rim. He was fouled on what would have been his fifth easy dunk of the game with a minute and a half to play, off of another feed from Garnett. He would go on to knock down one of his two free throw attempts.
But Krstic finished Friday's tilt as more than just a player finishing off the plays his teammates made for him. He was aggressive in his own right, as evidenced by a rare right side drive to the basket in the first quarter that resulted in a foul and two free throws, or the offensive rebound he fought for following a Ray Allen miss that he managed to convert into another field goal.
Krstic finished the first half with 12 of his 17 points and four of his six total rebounds, while connecting on five of his first six field goal attempts.
"I think [Krstic's] better days are coming," said Garnett. "I love the fact that he can shoot from 17 to 19 feet. I love the fact that he has a lot of confidence in himself. I think the difficulties are him learning our schemes and how hard we do things here. Tonight was a prime example of him just being aggressive."
Celtics coach Doc Rivers said Krstic struggled a bit early in the defensive end, but raved about his effort overall.
"[Krstic] was great today, had great energy," said Rivers. "He was aggressive. He still has to learn how to do his work early on the post -- early on he was letting McGee catch it on his spot... but after we got him to do that, he was really good."
Greg Payne is a student intern for ESPNBoston.com