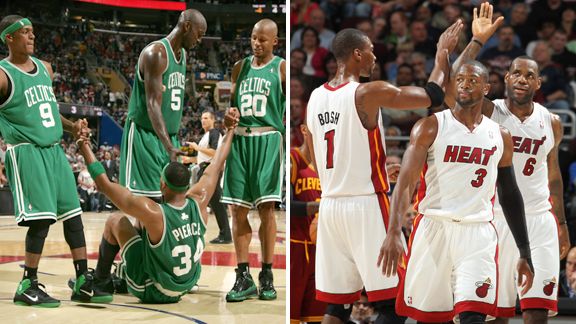 Getty Images
Celtics vs. Heat, Round 4, Sunday on South Beach.Celtics coach Doc Rivers admits that the most frustrating aspect of his team's late-season stumble has been that, along the way, it lost the ability to control its own destiny. After spending much of the season atop the Eastern Conference, Boston has endured inconsistent play over the past month-plus and soon found itself three games behind the Chicago Bulls with five games to play.
And after getting throttled Thursday at the United Center, any fleeting dreams of a top seed were dashed. The bad news for Boston: The road back to the NBA Finals almost assuredly goes through Chicago. The good news for Boston: The Celtics can still control just about everything but that.
Or, as Celtics coach Doc Rivers put it after Friday's win over the Wizards: "We control our own destiny for the second seed now and we've got to win the next two games."
The Celtics and Heat sit with matching 55-24 records entering Sunday's showdown. Whoever wins thrusts themselves into the driver's seat for the No. 2 seed, but particularly Boston since the Green already own the head-to-head tie-breaker having ensured they win the season series by taking the first three meetings of the season.
A win Sunday would mean the Celtics would need just one win over their final two games -- Monday in Washington or Wednesday against New York -- to lock up the maid of honor spot in the East (which would ensure that, should top seeds win out, Boston would boast home-court advantage over the Heat in the conference semifinals). Boston could also clinch that spot with a win Sunday and a Miami loss over its final two games (road games at Atlanta and Toronto).
If the Heat win Sunday, they'll need to maintain that one-game cushion over Boston to the finish line due to the tie-breaker.
But here's the added bonus for Boston: Wins on Sunday and Monday would not only lock up the No. 2 seed, but take all the meaning out of Wednesday's regular-season finale against the Knicks. Not only could Boston rest its starters that night -- giving it what amounts to a week break, given that the team is not likely to open the first round until Sunday, April 17 -- but Boston would have the luxury of -- ahem -- allowing New York to win that game, which could ensure a first-round matchup with what seems like a more desirable Philadelphia squad, depending on how the 76ers and Knicks close out their schedules.
New York currently boasts a ½-game edge for the sixth seed. Boston would play the No. 7 seed in the opening round.