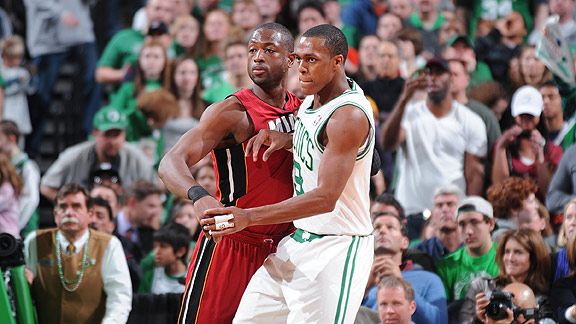 Brian Babineau/NBAE/Getty Images
The battle for the No. 2 spot in the East likely hangs in the balance Sunday.When the C's meet the Heat for the fourth time, there will be much at stake: An advantage that could go far in the playoffs.
--MAY: PLENTY AT STAKE FOR C'S, HEAT--
No one on either side is going to need a pep talk or a reminder of the importance of the outcome. There's home-court advantage at stake -- and perhaps not just in their own conference.

There's certainly payback on the Miami Heat's mind -- again. There's muscle flexing on the Boston Celtics' mind -- again.

Oh, and will we see the Stepford Dwyane Wade again?

Boston and Miami, Part IV, presents that rarity of rarities in an NBA regular-season game -- actual meaning. The teams, which meet Sunday in Miami, are tied for second place in the Eastern Conference with records of 55-24. The winner likely will secure the No. 2 seed behind the Chicago Bulls for the playoffs, which begin next weekend.
*The Heat Index: Who wants it more? | Eyes on Wade | What to watch | Seed matters?