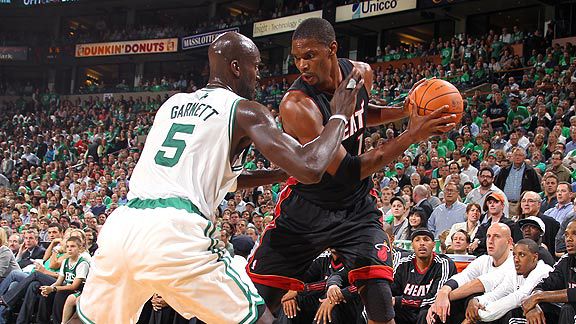 Nathaniel S. Butler/NBAE/Getty Images
Kevin Garnett and Chris Bosh are two of the top power forwards in the game.Each week, ESPN Insider

breaks down one of the week's key matchups. This time around: Kevin Garnett vs. Chris Bosh before Sunday's showdown on South Beach:
You just can't win in this league without a great power forward. Particularly one who can fill the stat sheet across the board and perfectly complement the superstars playing next to him. The Boston Celtics and Miami Heat have no such worries with Kevin Garnett and Chris Bosh on the floor.

Garnett is the emotional anchor of Boston's Big Three while Bosh is the unsung third wheel in Miami's triumvirate. Their roles vary, but both will play vital roles in their respective teams' championship chase. While Garnett is putting the finishing touches on a Hall of Fame career, Bosh has become one of the league's more maligned players despite posting stellar numbers alongside two superstars who often have the ball in their hands.

They're both charged with providing their respective teams with scoring, muscle, and leadership, but who does it better?
ESPN the Magazine's Chris Palmer gives the Bosh the edge on key strength (shooting touch), secret skill (ambidexterity), while Garnett earns the edge in weakness (durability) and intangibles (intimidation). The winner? No need to toss your keyboards out the window this time, Celtics fans.
As an added bonus, check out the Player POV, which includes commentary from two former Celtics: Kendrick Perkins and Al Jefferson. Here's Perk on old friend KG:
"KG is one of the toughest guys to play because his intensity never lets up. He's one of the true competitors to ever play the game. He goes hard against guys and a lot of them can't deal with it. He's the best at that. As an opponent you don't get to see the other side of him, but he's a great teammate, somebody that's going to have your back and you always like to be out on the floor with a guy like that. His emotion and focus carries over to the people around him, until you have the whole team on the same page. It's very hard to beat a team like that. That's what KG does. In the locker room and on the floor, you're lucky if he's on your team."
Click HERE

to read the full breakdown.