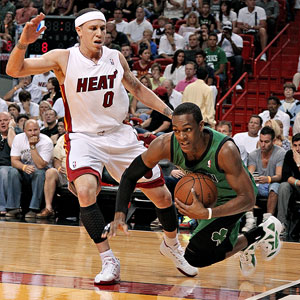 Mike Ehrmann/Getty Images
Rajon Rondo stumbled trying to exploit his matchup with Mike Bibby.You know the saying by now: As Rajon Rondo goes, so go the Celtics.
Unfortunately, in two of Boston's last three games -- both of which had significant playoff implications -- Rondo didn't take his club where it needed to go.
The Celtics' All-Star point guard finished Sunday's pivotal 100-77 loss to the Miami Heat with a pedestrian seven points and five assists on 3-of-8 shooting, a mere three days after finishing with seven points, five rebounds, and six assists on 3-of-10 shooting in a 97-81 loss to the Chicago Bulls.
In both games the state of Rondo's play was what was most troubling. All too often he seemed to be running on cruise control and the usual aggressiveness that is expected out of him was hardly seen. Rarely did Rondo attempt to penetrate Chicago or Miami's interior defense and get to the rim, either to score for himself or create easy looks for his teammates. Against the Bulls, he missed a wide-open layup in transition in the third quarter. It was shrugged off because it happens so rarely, but it happened again on nearly the exact same play against Miami on Sunday. The overall lack of aggression against the Heat was almost unforgivable, especially considering Rondo's matchup with Mike Bibby is the one true lineup advantage the Celtics hold against the Heat.
In addition, the Celtics often failed to initiate any offense in transition, particularly against Miami on Sunday, when they finished with a total of three fast-break points.
There was the occasional exception, of course. In the third quarter of Thursday's loss, Rondo broke out in the open court and had multiple looks at the basket. And midway through the third frame on Sunday, Rondo became more aggressive with his shot selection by burying two jump shots within minutes of each other. But all those small spurts did was raise the larger question of why Rondo wasn't playing at that level for the entirety of the games.
Perhaps even more frustrating was the fact that there was a game in between the respective showdowns in Chicago and Miami -- a much less hyped home game against the Washington Wizards on Friday -- and the Rondo that was worthy of his All-Star title showed up to play. He was back to attacking the rim -- sometimes at a relentless rate -- and finished with 20 points and 14 assists on 7-of-12 shooting, on a night when the Celtics as a team registered 25 fast-break points. The Celtics might have let the Wizards hang around a bit too long, but they ultimately emerged with a 104-88 victory, further suggesting that Rondo's personal level of aggressiveness usually reflects that of the team as a whole.
Why this string of events unfolded for Rondo the way it did remains the greatest mystery. Historically, the super-competitive Rondo has played his hardest in games that feature another of the NBA's elite young point guards, which would suggest he would have been up for Thursday's tilt with Derrick Rose at the helm for the Bulls. But as the game wore on, that matchup looked more and more like a mismatch, and Rose prevailed with 30 points and eight assists on 9-of-16 shooting.
Additionally, Rondo's never been one to shy away from the spotlight in a big game, and Sunday's contest was about as hyped as they come, given all that was on the line. Instead, he played passive, as if he was unaware of the magnitude of the moment.
Injuries have been raised as a possible concern for Rondo recently, beyond the sore pinkie finger he's dealing with. Some have suggested the plantar fasciitis he dealt with earlier in the season is still lingering, as are the right ankle woes he battled through months ago. Rondo admitted recently that he's no 100 percent, but that he's healthy enough to get through.
His lack of explosiveness on Thursday and Sunday certainly solidifies such injury theories. No player is playing at 100 percent right now -- as 100 percent of players will tell you at this point of the season -- but how much Rondo is affected by any maladies he might be dealing with isn't clear. Consider his subpar game against the Bulls and his bounce-back game the very next night against the Wizards. He certainly wasn't playing like someone who was hurt on Friday.
It should be noted that Chicago and Miami boast two of the NBA's best defenses, while the Wizards cannot be included in that category. The Celtics suffered from a host of problems in both losses, and not all of them can be pegged on Rondo's shoulders. After Sunday's loss, Rivers hinted at a trickle-down effect hindering Rondo's game, beginning with Miami's 15-3 edge in offensive rebounds and the Celtics' 14 turnovers.
"For us to establish a pace -- and that's one of the things Rondo was saying: 'How can you?'" Rivers told reporters. "They're shooting 51 percent, if they miss they get the rebound, and we're turning the ball over, so it really, I thought, affected [Rondo] the most."
For his part, Rondo isn't offering any answers. After the Celtics' last two games, he left the locker room without speaking with reporters.
The Celtics can only hope he has the answers for himself, with the playoffs directly around the corner. After all, the Celtics will only reach their desired destination if Rondo is the one leading them there.
Greg Payne is a student intern for ESPNBoston.com