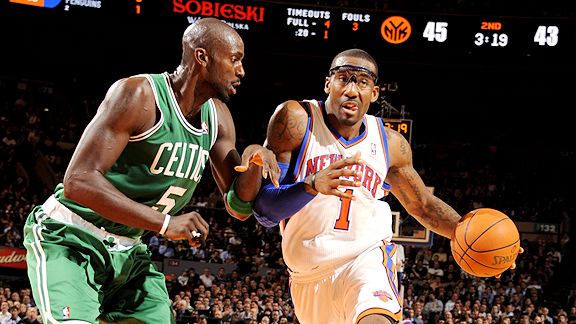 Lou Capozzola/NBAE/Getty Images
Kevin Garnett and Amare Stoudemire will see a lot of each other the next two weeks.The New York Knicks visit the Boston Celtics Wednesday night for both team's regular-season finale, which essentially amounts to Game 0 of the Eastern Conference playoffs as the two teams will open a best-of-seven first-round series Sunday back at the TD Garden. We'll break down the series from every angle over the course of the next five days, but here's a quick playoff primer with the help of our friends at ESPN New York to get you ready:
Postseason history
The Celtics and Knicks have met 12 times in the postseason, but this will be the first meeting in 21 years (or, if you want to put it another way, the first time since Boston rookie Avery Bradley's been alive). Will this meeting resuscitate the rivalry? A glance at past playoff meetings with round and winner:
* 1990 - Eastern Conference first round - Knicks, 3-2
* 1988 - Eastern Conference first round - Celtics, 3-1
* 1984 - Eastern Conference semifinals - Celtics, 4-3
* 1974 - Eastern Conference finals - Celtics, 4-1
* 1973 - Eastern Conference finals - Knicks, 4-3
* 1972 - Eastern Conference finals - Knicks, 4-1
* 1969 - Eastern Division finals - Celtics, 4-2
* 1967 - Eastern Division semifinals - Celtics, 3-1
* 1955 - Eastern Division semifinals - Celtics, 2-1
* 1953 - Eastern Division finals - Knicks, 3-1
* 1952 - Eastern Division semifinals - Knicks, 2-1
* 1951 - Eastern Division semifinals - Knicks, 2-0
Season recap
The Celtics boast a 3-0 advantage in the season series thus far, but it hasn't come easy. Heck, Boston needed Paul Pierce's heroics just to win the preseason meeting in New York. Here's a look at how the three regular-season meetings played out:
OCT. 29: CELTICS 105, KNICKS 101
Celtics guard Rajon Rondo stole the show by producing a double-double which featured an eye-popping 24 assists, the second most single-game assists in Celtics history. Host Boston led for much of the night, but New York closed within two with 18 seconds remaining before Paul Pierce sealed the win with some free throws. What it meant: Not sure how much you can gleam from the first game of the season, but maybe the most noteworthy aspect was that Shaquille O'Neal bruise what he dubbed his "right fibula head," a nagging ailment that started his injury-plagued season, particularly on his right leg.
* Required reading: Impressive night for Rondo | Rondo's night one for the ages
DEC. 15: CELTICS 118, KNICKS 116
With the Knicks having compiled a respectable 16-10 mark out of the gates, there was considerable buzz about this meeting at Madison Square Garden and the "R" word was tossed around liberally. Fortunately, the game lived up to the hype and that "rivalry" chatter seemed justified. Paul Pierce drilled a 14-foot jumper over Amare Stoudemire (whose own buzzer-beater was a split second too late) and did a home run trot to celebrate the win (culminating with Nate Robinson's infamous faceplant). What it meant: The Knicks established that they could be a pest, but given the wholesale roster changes to both teams since that game, it's unlikely that meeting has any impact on what lies ahead.
* Required reading: Pierce plays villain | Rivalry returns | Knicks falter in crunch time
MARCH 21: CELTICS 96, KNICKS 86
If this one is any indication of how the postseason will play out, warn the local hospitals. In a bit of a bloodbath (Troy Murphy, Ray Allen, and Carmelo Anthony all endured cuts, with Allen and Anthony needing postgame stitches), the Celtics endured New York's best shot, then landed a knockout haymaker in the fourth quarter. Celtics coach Doc Rivers insinuated his team was "soft" with Boston trailing by 14 at halftime. The Green went on to outscore the Knicks, 33-17, in the final frame to run away with the win. What it meant: The new-look Knicks established that they could still hang with the new-look Celtics. In fact, Boston probably walked away hoping to avoid New York in the postseason. That didn't happen. Now they've got to endure as many as seven more of these battles.
* Required reading: C's not 'soft' | Carmelo needs to be better | NY lacking at center
They said it
Celtics captain Paul Pierce: ""I think it's going to be fun. You definitely have that rivalry in baseball. Maybe we can spark a rivalry there in basketball. You've got two cities who are close, next to each other, great sports towns. I think it's going to be great for the game."
Knicks forward Carmelo Anthony: "I'm not Nostradamus. I don't make predictions. [The Celtics have] something to prove. We've got something to prove. I'm pretty sure it's going to be a battle...
Knicks guard Chauncey Billups: "That team, they haven't been playing well lately, they haven't been healthy lately, and I'm sure they are looking forward to the postseason. I've been on those teams, veteran teams, where pretty much the regular season is just not that much fun. They look forward to the playoffs, and that's the kind of team they have, so we've got our hands full. But in saying that, we're looking forward to this opportunity... I think that we are probably, most certainly, the most dangerous first-round team in the NBA. When I say that it's because we are fresh and we are new and we are dangerous."