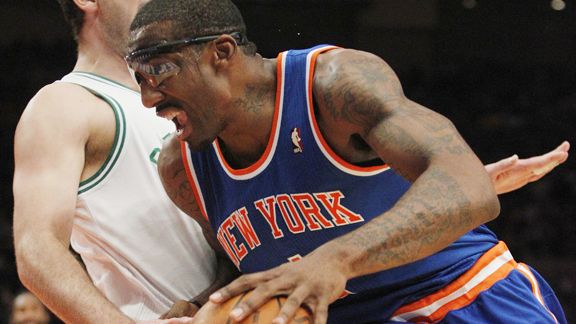 AP Photo/Frank Franklin II
Amare Stoudemire drives on Boston's Nenad Krstic last month.Do the Knicks really have a chance against the Celtics? ESPN New York's Stephen A. Smith says no:
--BOCKERS TO BEAT BOSTON? FAT CHANCE--
Here's what we've learned about the New York Knicks in the past two weeks: Carmelo Anthony has lived up to the hype. With him and Amare Stoudemire, there are two stars in New York who want to run this town. The Knicks, as a result, are heading to the playoffs, having registered their first regular-season record above .500 in a decade -- yet it all might not amount to a hill of beans because, by the time any of us is able to enjoy it, their postseason exit will have already arrived. Sorry!
* ESPN New York: C's are only focus | Knicks looking ahead | Thibs: Knicks are dangerous