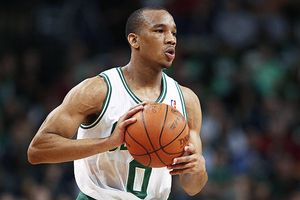 Mark L. Baer/US Presswire
Celtics rookie Avery Bradley made the most of his rare playing time vs. the Knicks.BOSTON -- When Celtics rookie Avery Bradley first checked into Wednesday's 112-102 victory over the New York Knicks, he hadn't even played four full seconds before he was being yelled at by head coach Doc Rivers.
Rivers was urging Bradley to get back on defense, and his wish was granted, as, a second later, Bradley swiped the ball from Knicks point guard Anthony Carter, and raced towards his own hoop before he rose up and threw down a loud right-handed slam.
It was only the start of the best game of Bradley's young NBA career, as he finished Wednesday's regular-season finale with a career-high 20 points on 10-of-16 shooting, to go along with three rebounds, two assists, and two steals in a career-best 27 minutes.
Bradley wasn't willing to let his first significant minutes in weeks go to waste, and he followed up his first quarter dunk with a jump shot from the left corner, a floater on the right side and a pull-up jumper over Carter at the left elbow. He finished the first frame with eight points, which, at the time was already a new personal milestone (his previous career-high in points stood at five).
"I felt good," said Bradley. "I mean, we've been practicing a lot and [I've been] going up against [Rajon] Rondo every single day. We go hard in practice, and so, those guys just got me so much better from the beginning of the year to now. Even though I don't play much, I still get better in the little bit of time we've got in practice and on my own. It was big for me tonight to go in there and show coach that I go hard when my name is called on to help our team out any way I can."
Bradley continued his aggressive play early in the second frame, as he curled off a screen at the top of the key, slashed down the lane and skied up for another right-handed dunk, making him the first Celtic to reach double figures in scoring.
"[I'm] just going in and playing hard," said Bradley. "My coach seeing me give that effort, it only can help me in his eyes and let him know that I'm always going to play hard."
Bradley added eight more points in the final quarter, including a soft floater off of a left baseline drive and a layup on the right side after cutting to the hoop and accepting a handoff from Jeff Green.
"I haven't had a rhythm like that since I went down to the D-League," said Bradley, referring to his stint with the Maine Red Claws back in January. "It felt good to finally get the rhythm that I used to get in the D-League and college. It helps your game. You go out there and you feel a little more comfortable and I think that's why I looked so comfortable out there, just because I got my rhythm. I felt very good. I felt like the old me."
Said Rivers: "Right now, Avery's a scorer, he's not really a point guard. He's a direct line-drive guard. We ran a couple sets for hand-offs that, with his speed, getting to the basket, he finishes at the basket. He was an NBA defender before he got here, and he still is. We haven't messed him up. So he's a better defender now. And he's young, we can't forget that. He should be a sophomore in college, right?"
Bradley might no longer be in school, but that hasn't stymied his eagerness to learn. He's taken advantage of the limited practice time the Celtics have had lately, and he's acted like a sponge on a team full of veterans, soaking up as many bits and pieces of knowledge as he can.
"Even though I haven't been playing much, I've been learning a lot," said Bradley. "We've been winning, and playing on a winning team is always good, and playing on a team with [veterans] is always good.
"I just take the most out of it, and try to learn every single day. Every single day I'm learning something, and the good thing is, those guys come to you, or you can go to them and learn things. I learn from everybody, even from Jeff [Green]. Carlos [Arroyo] is a big help, a big, big help. I love my teammates and like I said, playing on this team is the best thing for me."
Bradley's performance Wednesday might go down more as a promise of things to come -- as a flash of the progression he's made behind-the-scenes this season -- as opposed to the start of consistent contributions. The playoffs are set to commence this Sunday, and Bradley isn't likely to log significant minutes with so many veteran guards ahead of him on the depth chart. But that won't stop Bradley from staying ready, should Rivers need to call on him.
"Whenever my name is called on, I'm going to be ready," Bradley said. "If that's what coach needs me to do, come in for one play, I'm going to be ready to go in there and help my team out any way I can."
Greg Payne is a student intern for ESPNBoston.com