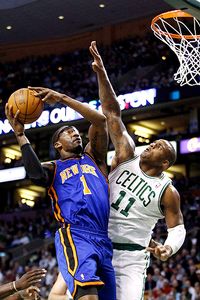 Mark L. Baer/US Presswire
Amare Stoudemire's scoring potential makes the Knicks a dangerous team.With top scorers Amare Stoudemire and Carmelo Anthony, the Knicks could present some problems for the Celtics, as coach Doc Rivers knows from experience:
--WHAT MAKES KNICKS DANGEROUS FOR C'S?--
Boston Celtics coach Doc Rivers operates under the theory that you don't want to get into a playoff series in which the other team has the best player on the floor. Considering he's touted the New York Knicks tandem of Carmelo Anthony and Amare Stoudemire as among the NBA's elite, Rivers concedes that New York is not the ideal first-round draw (if such a thing exists). Rivers wouldn't bite when asked if the Knicks are a "dangerous" team, dismissing the suggestion by saying that he wouldn't get involved in wordplay and noting that some might dub his own team "dangerous." But Rivers knows from experience just how threatening an opponent with elite scorers can be. "I almost won a series in Orlando with one guy named Tracy McGrady," Rivers said.
* Required reading: May: Rivalry? What rivalry? | Sheridan: Stoudemire (ankle) says he's OK