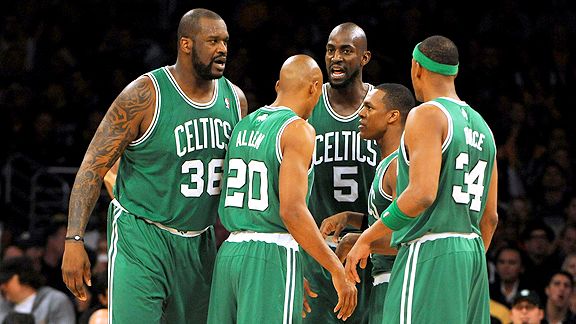 Andrew D. Bernstein/NBAE/Getty Images
Five of the NBA's top 15 selling jerseys on the court here.The Boston Celtics established a new NBA benchmark for jersey sales, placing five players -- the Big Four and Shaquille O'Neal -- in the top 15 selling jerseys of the 2010-11 season. Here's the full list:
1. LeBron James, Miami Heat
2. Kobe Bryant, Los Angeles Lakers
3. Rajon Rondo, Boston Celtics
4. Amar'e Stoudemire, New York Knicks
5. Derrick Rose, Chicago Bulls
6. Dwyane Wade, Miami Heat
7. Kevin Durant, Oklahoma City Thunder
8. Carmelo Anthony, New York Knicks
9. Dwight Howard, Orlando Magic
10. John Wall, Washington Wizards
11. Blake Griffin, Los Angeles Clippers
12. Shaquille O'Neal, Boston Celtics
13. Ray Allen, Boston Celtics
14. Paul Pierce, Boston Celtics
15. Kevin Garnett, Boston Celtics
What's more, the Celtics were the No. 2 selling team in the league behind only the Los Angeles Lakers. The NBA's top-selling jerseys list is based on sales on NBAStore.com since the start of the 2010-11 season.
The top 10 selling teams:
1. Los Angeles Lakers
2. Boston Celtics
3. Miami Heat
4. New York Knicks
5. Chicago Bulls
6. Oklahoma City Thunder
7. Orlando Magic
8. San Antonio Spurs
9. Denver Nuggets
10. Phoenix Suns