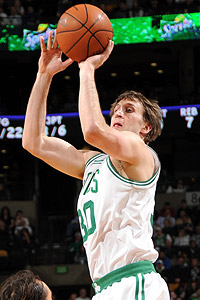 Brian Babineau/NBAE/Getty
Troy Murphy isn't certain of his role, but his playoff drought is about to end in Boston.For Celtics forward Troy Murphy, the 10th time ended up being the charm.
Murphy's first nine seasons in the NBA all ended in mid-April with the conclusion of the 82-game regular season, and the playoffs always served as the party he could never obtain an invitation to.
Murphy' playoff odds weren't considered terrific at the beginning of his 10th campaign, seeing as he was a member of the New Jersey Nets -- a club that won just 12 games last season. But his relationship with the Nets broke down, and he was cast into basketball purgatory, forced to miss live game action for almost two months before eventually being traded to the Golden State, bought out by the Warriors, and signed by the Celtics.
Suddenly, overnight, Murphy's playoff odds went from zero to guaranteed, and better yet, his first taste of the playoffs isn't expected to be a one-and-done showing. The Celtics are hoping to go far, and contend for an NBA championship. It all begins Sunday for Murphy, when the Celtics host the New York Knicks in Game 1 of the Eastern Conference quarterfinals at 7 p.m.
"I'm very excited," Murphy said prior to the Celtics' practice at the Sports Authority Training Center at HealthPoint on Thursday. "I'm very pumped up. I'm really looking forward to this."
For the first time, Wednesday's regular season finale against the New York Knicks didn't serve as the last outing of Murphy's season. Goodbyes with teammates were not exchanged, and summer plans and vacations did not need to be discussed quite yet. Instead, more basketball is to be played -- and Murphy's anticipating it'll be the most intense basketball he's ever been a part of.
"You could tell [Wednesday] after the game there was a different [tone]," said Murphy. "It's serious and things are for real normally, but it's stepped up another notch.
"These guys, everybody's here for one reason, and one goal, so it's exciting. I'm excited."
The main question surrounding Murphy's playoff debut is just how much floor time he'll see. He joined the Celtics after not playing in an NBA game for practically two months, and in the midst of his initial adjustment period in Boston, he suffered a sprained right ankle in practice on March 24, which forced him to miss six consecutive games.
Murphy's playoff minutes are in question because of how sparse his minutes were over the final six games of the regular season (and his lack of production during them). After returning from his ankle sprain he played just three minutes three times, two of which came in the Celtics' two most important games (and playoff-like games) down the stretch against the Chicago Bulls and the Miami Heat.
Murphy did manage to log significant minutes in the Celtics' final two regular season games, when C's coach Doc Rivers elected to rest the majority of his usual starting lineup. The purpose of the strategic rest was also to help the reserve players earn more minutes and develop a rhythm heading into the postseason, and Murphy was no exception to that. He played 27 minutes in Wednesday's finale against the Knicks -- a high since coming to Boston -- and knocked down his first 3-pointer as a Celtic, finishing with nine points on 3-of-6 shooting to go along with four rebounds.
"We don't practice that much, so just any time that I can be out there in that kind of environment, with that layoff that I had and coming back from injury is big for me," said Murphy. "So being able to play the last couple games, especially [Wednesday] night being able to get in there for minutes in a row, is going to help me."
The lengthy absence from NBA action hurt Murphy perhaps more than anything, and he has yet to re-emerge as the consistent double-double guy he has been for the vast majority of his career (he averaged a double-double in five of his first nine seasons). As recently as last season Murphy was one of the better defensive rebounders in the NBA, and during the 2008-2009 campaign, he led the NBA in defensive rebound percentage, when he hauled in a league-best 32 percent of all available defensive rebounds.
Since joining the Celtics, the most rebounds he's recorded in a game is seven, which he did against the Milwaukee Bucks on March 13. Murphy isn't about to downplay his abilities, though. He still thinks he's capable of being the player he once was.
"I think I can definitely get back there," Murphy said. "I think I hadn't played in two months leading up to here and I think coming in here, just trying to fit in and everything, then getting hurt, hasn't helped. But I'm going to be fine, and I know what I'm capable of doing, and I'm going to be right back there."
Murphy said he hasn't spoken with Rivers about the minutes he may or may not see in the postseason, but he maintained that he's thrilled for his first playoff experience, and is willing to do whatever the Celtics ask of him.
"Anything I can do to help," Murphy said. "I know we have a lot of bigs. We have a lot of bigs coming back, and I'm just hoping to help any way that I can."
Greg Payne is a student intern for ESPNBoston.com