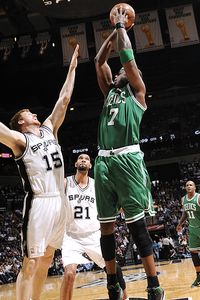 D. Clarke Evans/NBAE via Getty
After all the knee woes, Jermaine O'Neal is ready for the postseason.WALTHAM, Mass. -- The Celtics are still uncertain of Shaquille O'Neal's status for Game 1 of the opening round of the playoffs against the New York Knicks on Sunday, but the same cannot be said for the other O'Neal.
Jermaine O'Neal, who many thought could not be relied upon after he underwent left knee surgery almost three months ago, will be ready for Sunday's postseason opener, and will most likely earn the starting nod at the center spot.
"I'm feeling good," O'Neal said after the Celtics practiced at the Sports Authority Training Center at HealthPoint on Friday. "You play a long time and you look at it like this: You've got 16 wins and you've achieved something that you've looked for for so long, so that's how I see it. That's what I talk to my family about. I'm 16 wins away. No matter what I've been through in my career, it can be justified by winning a ring."
This scenario was difficult to imagine at the start of the calendar year. Shaq was playing some of his best basketball of the season and, despite a few stretches of missed games here and there, the 39-year old center was holding up as well as anyone could have hoped for. Jermaine, meanwhile, was fighting through left knee troubles that eventually required surgery midway through January. And even when Shaq went out early in February with an inflamed right Achilles tendon, the general consensus was that he would return long before J.O.
The Celtics are still banking on a healthy Shaq at some point during the postseason, but for now, they're ready to go to war with Jermaine as their man in the middle. While questions lingered about the state of his surgically repaired left knee when he sat out of Wednesday's regular season-finale against the Knicks after playing a season-high 37 minutes in an overtime loss to the Wizards on Monday, O'Neal said the spike in floor time didn't spark any setbacks or side effects.
"I don't have any issues," O'Neal said. "The knee, it was a big test and that's what we wanted to do against Washington -- see how many minutes I could play, and see what the reaction was the very next day. I had no reaction at all.
"Going through this knee situation and going through it one time before, you can tell during a game. I'd have been able to tell during the game. When we went into the overtime I was like, 'OK, now I'm really going to be able to see where I'm at,' because the knee tends to tell you when it's tired and when it's not doing very well, and it felt fine. It felt fine getting off the plane. The next day I woke up, put my foot on the ground and sat there for a second, and got out of bed, and felt fine."
O'Neal said he has no doubts that he's capable of playing lengthy minutes in the postseason on a consistent basis, but Rivers will most likely take a center-by-committee approach by shuffling in Nenad Krstic and Glen Davis into the middle for various stints as well.
O'Neal's presence defensively will be what the Celtics covet most throughout the postseason. Despite playing fewer than 500 minutes in the regular season, O'Neal finished tied for fourth on the team in blocked shots with 30 -- five of which came in his last outing against the Wizards on Monday. While his on-the-court stints were brief throughout the regular season, O'Neal consistently flashed his ability to be a solid help defender, and he's expected to form a considerable defensive pairing with Kevin Garnett along the front line.
"We play very well together," said O'Neal of playing alongside Garnett. "I think we've seen at times, early in the season, we played very well together. Our length, our ability to get out on the perimeter and, if it's a switch, guard guards on the switch or show. [We] cover the back very well. I think what we do very well on that back end is seeing the play develop. We may be a step slow on the read, but we're quick enough to recover into the play and make the play."
Added coach Doc Rivers: "[Jermaine's] come along great; he's been terrific. You could truly see him buying in to all the defensive game plans, talking a lot. I thought [in film watching], besides Kevin, because Kevin talks all the time, in the film, Jermaine talked the most. Kevin's always another level, but I'm just saying, after that, it was Jermaine.
Any offense J.O. provides will be gravy. His focus is on preventing baskets from the other team, as opposed to creating them for himself. He might score on the occasional post-up, or collect an offensive rebound and lay it back in, but O'Neal's point totals will take a backseat to his rebounding numbers and overall defensive presence.
For months, Jermaine might have been the forgotten O'Neal, but come Sunday, he'll step back into the spotlight and take center stage for the Celtics as they embark on another playoff run.
Greg Payne is a student intern for ESPNBoston.com