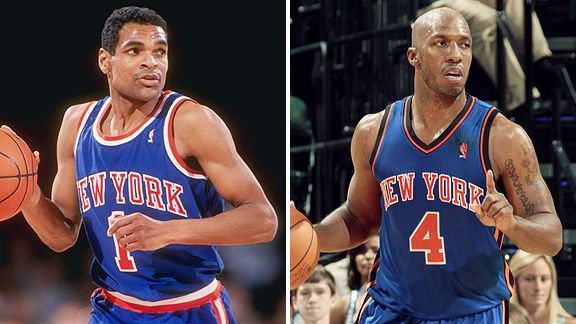 Getty Images
Can Chauncey Billups (right) do what Mo Cheeks did for the Knicks in 1990?In 1990, Mo Cheeks led the New York Knicks upset of the Boston Celtics. Twenty-one years later, can Chauncey Billups do the same? ESPN New York's Chris Sheridan examines:
--SHERIDAN: KNICKS HOPING TO USE SAME SCRIPT FROM 1990--
Chauncey Billups did not know the details of the last Celtics-Knicks playoff series, which is understandable. It happened 21 years ago. It involved players who are now scattered throughout front offices, coaches' offices and broadcast booths. And it had nothing at all to do with the life he was living back then as a 13-year-old in Colorado. So he asked to hear the story, and he raised his eyebrows when he heard the parallels: The Knicks had acquired a savvy veteran point guard at midseason, and when it all came down to one final game it was that old ball handler, Maurice Cheeks, who made all the difference.
* ESPN New York: Knicks can bring an end to Big Three era with upset