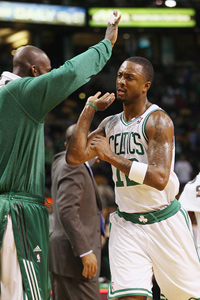 Elsa/Getty Images
Von Wafer is one of the players hoping to land at the end of Boston's active playoff roster.WALTHAM, Mass. -- Celtics coach Doc Rivers has already pointed out that we all probably spend too much time worrying about who the players are that will comprise the end of the Boston bench as the playoffs open Sunday. At a time of year when rotations shrink to maybe a 10-person maximum, Rivers is quick to point out it doesn't bode well for Boston if we're talking much about the 12th man.
Even still, Rivers wouldn't tip his hand Saturday when asked who will fill out the end of the roster, but you can pencil in two of the three inactive spots with rookie guard Avery Bradley and injured center Shaquille O'Neal.
"No, we'll [announce the inactives] tomorrow, whatever time it is, 6 p.m. or 4:30 a.m.," quipped Rivers. "I'd rather have [one active spot] filled up [by O'Neal], but it does [make things easier]. It would have been a bigger deal, honestly, with the list if [reserve guard] Delonte [West] had not have been healthy. But he's healthy, so I don't think the list is going to be that big of a deal."
The final inactive is likely come from a group of Carlos Arroyo, Von Wafer, and Sasha Pavlovic. Reserve forward Troy Murphy, who has yet to show much in game action since being picked off the buyout scrap heap, is just about assured a spot given O'Neal's absence and the frailty of Boston's front line (both Jermaine O'Neal and Nenad Krstic have had recent knee injuries). Arroyo would provide veteran depth behind Rajon Rondo and West, who is also injury prone and coming off a recent re-aggravation of his sprained right ankle.
Wafer and Pavlovic are competing to provide depth at a thin wing position behind Paul Pierce, Ray Allen, and Jeff Green, and it would seem likely one of them would be deactivated should the Celtics elect to carry Arroyo as the third point guard. Both Wafer and Pavlovic have had their moments -- both good and bad -- late in the season.
The other thing to reiterate here is that active/inactive players can be changed on a game-to-game basis, so it's not like deactivating a player for Game 1 means much beyond that night. In the past, rosters were less flexible.