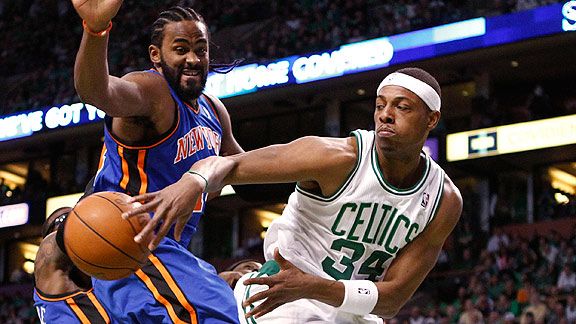 AP Photo/Winslow Townson
The Celtics needed a second-half rally, but got past the Knicks.BOSTON -- Rapid reaction after the Boston Celtics defeated the New York Knicks 87-85 in Game 1 of an Eastern Conference quarterfinal series Sunday night at TD Garden:


HOW THE GAME WAS WON
After putting up only three shots in the first half, Ray Allen finished 9-of-15 shooting for 24 points, hitting the go-ahead 3-pointer in the final seconds as the Celtics rallied to steal Game 1. Kevin Garnett overcame a poor shooting night (5-of-14) to chip in 15 points and 13 rebounds, while Rajon Rondo flirted with a triple-double with 10 points, nine rebounds and nine assists. Amare Stoudemire scored a game-high 28 points, while Carmelo Anthony, plagued by foul trouble, finished 5-of-18 shooting for 15 points and missed a final 3-pointer with a chance to win the game.
TURNING POINT
Toney Douglas wasn't supposed to be Mr. Big Shot, but after Chauncey Billups limped off the court late in the fourth quarter, Douglas stepped up and canned a monster 3-pointer with 37.8 seconds to play to put the Knicks out front, 85-82. The Celtics answered with a beautiful inbounds play that featured a perfect out-of-bounds lob from Rajon Rondo to Kevin Garnett that took a mere half-second off the clock. After Anthony got tagged with an offensive foul, Boston got Allen for the pivotal 3-pointer off a feed from Paul Pierce.
STAT OF THE GAME
The Celtics got virtually nothing from their bench (8 points on 4-of-15 shooting), but their Big Four put the team on their shoulders, exactly what Boston needs in the postseason.
UNSUNG HERO
Jermaine O'Neal turned in a magnificent 23 minutes, making all six shots he attempted while chipping in 12 points and four rebounds. O'Neal also drew two charges and blocked four shots, maybe single-handedly turning around this game in the third quarter with his defensive play.
WHAT IT MEANS
Can anyone's heart take seven games of this? Boston emerges with a monster victory, the type that could easily deflate New York, who gave their best punch and still couldn't escape with the win. For a Boston team that struggled mightily in late-game situations toward the end of the year, their performance in the final minutes is a very encouraging sign moving forward. Of course, Boston has to smooth out the wrinkles after falling behind by 12 in the first half and having to claw out of a big hole yet again.