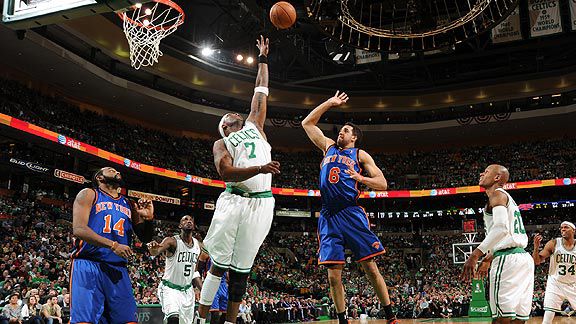 Brian Babineau/NBAE/Getty Images
Jermaine O'Neal looks for a block Sunday night against the Knicks.BOSTON -- Jermaine O'Neal said he was ready all along.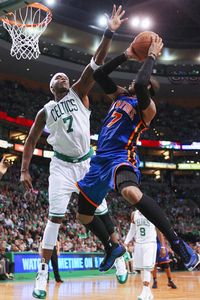 Elsa/Getty Images
Jermaine O'Neal provided a dose of offense and defense for the Celtics.In the days leading up to Sunday's opening game of the Eastern Conference quarterfinal playoff series between the Celtics and Knicks, O'Neal reiterated over and over that not only was his surgcially repaired left knee healthy, but he was ready to play extended minutes and contribute to Boston's playoff cause. But since he played in only 24 of 82 games during the regular season, it was natural for observers to have their doubts.
O'Neal, though, came through on his claims by registering 12 points on perfect 6-of-6 shooting to go along with four rebounds and four blocks in 23 minutes in the Celtics' 87-85 Game 1 victory over New York.
"J.O. was big," Kevin Garnett said. "It was the reason we acquired him, you know, he and some of the other guys. He's a defensive presence that can score the basketball. He definitely can score the ball in the post and he was huge for us tonight."
All season, both O'Neal and the Celtics suggested his defense would mean more to the team than his offense, but they proved to be equally vital Sunday as he wasted no time establishing himself on both ends of the floor. Less than three minutes into the game, he had already rejected an Amare Stoudemire layup attempt out of bounds and converted a short jumper just outside of the paint on the right side off of a feed from Paul Pierce.
And while O'Neal might have contributed to the Celtics' quick start, he was even more important during their second-half comeback. During a stretch that lasted four minutes in the middle of the third quarter, O'Neal registered six points, an offensive rebound and two blocks, on top of drawing a charge, as the Celtics cut a 12-point deficit in half.
During the stretch, after corralling a missed layup by Pierce and laying it back in, O'Neal went back to work on defense by rotating over and swatting a Carmelo Anthony layup bid. From there O'Neal raced down the floor as the Celtics broke out in transition (after Pierce saved the ball along the sideline), and O'Neal took a Rajon Rondo feed and buried a short jump shot in the lane, cutting the Knicks' lead to eight, which prompted New York coach Mike D'Antoni to call a full timeout.
The momentum was slowly starting to swing the Celtics' way again, and O'Neal found himself at the heart of it.
And he wasn't finished. After play resumed, O'Neal was the first to score for the Celtics on a right baseline jump shot off a feed from Rondo -- bringing the Celtics within six -- and he followed it up by again sending back an Anthony attempt at the rim. He rounded out his third-quarter outburst by stepping in and drawing a charge on a driving Bill Walker. When Glen Davis checked in for him after the play, O'Neal received a standing ovation from the TD Garden crowd as he headed for the bench.
"[Defense] is something that I really focus on," O'Neal said afterward. "I know the guys really depend on me to do that. I look at it as trying to be a safety in the back, you see the play developing. Altering a shot is as good as blocking the shot. Taking a charge is a great possession changer. Those things happened well for me tonight."
Added Pierce: "I can see over the last few games the way Jermaine played a lot of extended minutes and really played well. We saw that his health was getting a lot better, he was getting his legs up under him. Right on time -- even though he missed a lot of games -- because he was big out there for us tonight with his shot blocking. He knocked down a couple of shots outside the lane. Just his presence is going to be big for us in the middle with [Shaquille O'Neal] being out. I'm happy the way he's really progressed over the last couple of weeks and he's carried it [into] the playoffs."
The Celtics needed all 48 minutes of Sunday's game to fend off the Knicks, and O'Neal followed up his monster third quarter with an equally impactful fourth frame. With his team needing to make a defensive stand, Celtics coach Doc Rivers inserted O'Neal back into the game with just less than six minutes to play, at a time when he would normally roll with Davis as his crunch-time center.
"That's not how I planned that," Rivers admitted. "Obviously, we go with [Davis]. But J.O. was playing so well. And we needed stops. I felt that because of our stops we could get offense. So that was more gut. But with J.O. playing, it wasn't that hard of a decision for us."
The move by Rivers might have been unscripted, but it ended up paying off, as O'Neal came up with two clutch defensive plays that helped the Celtics tie the game with just more than a minute to play. O'Neal first drew a charge on Amare Stoudemire, who had converted the Knicks' last four points, and on New York's next possession, he swatted away a Ronny Turiaf layup attempt. And on Boston's next possession, O'Neal snatched an offensive rebound (his third of the game) and laid it back in, tying the game at 82.
"He's not just another player that's out there," Garnett said of O'Neal. "He's obviously a threat in our offense, so I'm happy for him."
O'Neal couldn't have asked for a better postseason debut for the Celtics, but he isn't willing to settle for just one standout performance. The Celtics need 15 more wins to capture the NBA championship, and he was cognizant afterward of the work that still needs to be done.
"Do you be happy with just one good game, or do you continue to work?" O'Neal said. "For me, I've got to continue to work."
Greg Payne is a student intern for ESPNBoston.com