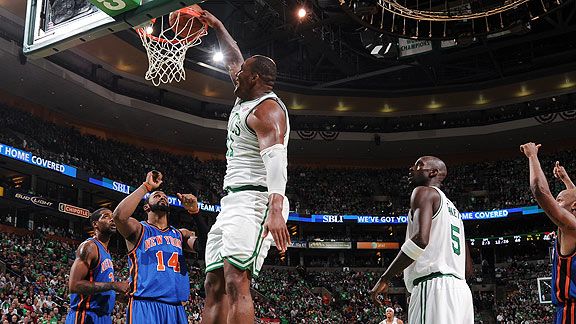 Brian Babineau/NBAE/Getty Images
Glen Davis and the Celtics wouldn't mind if this round was a slam dunk.WALTHAM, Mass. -- The Celtics have endured the rigors of a lengthy opening round playoff series before.
In 2008, it was the upstart Atlanta Hawks who took the Celtics to seven games in the first round. A year later, the Chicago Bulls did the same thing, only they made sure a whopping seven overtimes were part of the proceedings. Even the Celtics' five-game series in the opening round last year against the Miami Heat wasn't a walk in the park. The Celtics needed to rally in Game 1, played without Kevin Garnett in Game 2, needed a buzzer-beater from Paul Pierce to win Game 3, and fell in Game 4 before closing out that series.
This year might not be much different, given a dangerous New York Knicks team is the introductory opponent. But if ever the Celtics could use a speedy first round victory, this is the time.
The reasons are simple: The Celtics are older than they were a year ago, and an in-and-out series would mean more time to rest their aging stars before the Eastern Conference semifinals, more time to practice, more time for Shaquille O'Neal to not only return, but to get back in working condition before another series unfolds, and more time for the second unit to establish itself.
The Celtics aren't looking for things to get too intense too soon, which is exactly what will happen should this series go the full tilt. Jermaine O'Neal already suggested Sunday's Game 1 had the intensity typically reserved for a Game 7, and if the first three regular-season games between these two teams in the regular season are any indication, this series could become downright grueling.
Meanwhile, it's difficult not to be conscious of what could still await the Celtics down the road. If they advance past the Knicks, they still could potentially square off against the Miami Heat in the second round and the Chicago Bulls in the Eastern Conference finals (should top seeds advance). And all of that has to happen before we even mention a potential Finals opponent out of a Western Conference that's as strong as ever.
But the Celtics can't merely bask in the idea of a four- or five-game bout with New York. They'll have to go through the Knicks, not look past them, and it'll happen on a game-by-game basis, according to Pierce.
"I mean, you always want to try to put a series away when you have the opportunity, but you know it's got to be one game at a time," Pierce said prior to the Celtics' practice at the Sports Authority Training Center at HealthPoint on Monday. "I can't look [any] more forward than one game at a time, because I've done that in the past and I've been disappointed when I know we should have put a team away and it's been going seven games. So right now it's about one game at a time."
O'Neal echoed Pierce's sentiments, and while the Celtics obtained the series lead on Sunday, Tuesday's Game 2 is already fast approaching.
"You've got to be prepared for anything," said O'Neal. "We talked about it last night. It was Game 1 and it felt like it was a Game 7, so you've got to take it one game at a time. You don't want to say that you want to end it early. Every team in the playoffs wants to win fast and not take it to a seven-game series, but [New York is] a great team. They're going to come out, they're going to make some adjustments."
The Celtics need to make adjustments of their own, particularly on the defensive end. The Knicks shot 54.3 percent from the field in the first half on Sunday, assuming a 12-point lead in the process. And while the Celtics were able to claw their way back and escape with a victory, that type of recovery effort on a game-by-game basis will eventually drain a team.
"We can come out and we need to play better defense in the first half," said O'Neal. "Sometimes getting down 12, you may not always be able to come back. This team is a little bit older than they were a year ago. The players are a little bit older, so getting out of those deficits against good teams may not happen every time. So we want to come out and protect our home court, use the energy in the building, and try to keep a lead. It's harder for a team to come back when they're trailing the whole time. It takes a lot of energy and a lot of endurance to do that and for us we were fortunate enough to be able to turn on the switch defensively and hold those guys to poor shooting in the second half."
The Celtics watched as the Lakers, Spurs, and Magic -- all higher seeds than their opponents -- fell in their first playoff games, and the Bulls, Heat, Thunder, and Mavericks almost followed the same script. Boston managed to avoid an opening-game upset, and on Tuesday can take the all-important 2-0 series lead, which could go a long way in ending this matchup in a timely manner.
"Oh, that'd be big," O'Neal said of winning Tuesday. "It puts them in a must-win situation. No matter what, as players, we're always going to say, 'Well they did what they were supposed to do.' Nobody wants to be in a 2-0 hole. It's very difficult. It puts a lot of pressure [on you] when you go home to win both games. It makes everything a lot more tight, you know? You tend to want to make every shot, make every play because you're down 2-0. We know it's going to be a dogfight. There's no question."
A dogfight, to be sure. But a four- or five-game dogfight would be much better for the Celtics than a six- or seven-game one.
Greg Payne is a student intern for ESPNBoston.com