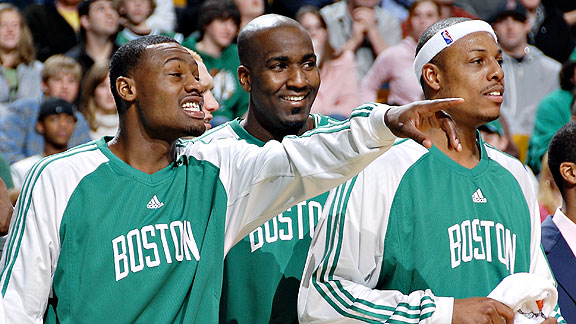 Brian Babineau/NBAE/Getty Images
Tony Allen, Kendrick Perkins, and Paul Pierce during the 2007-2008 championship season.WALTHAM, Mass. -- Celtics captain Paul Pierce is focused on helping his team vanquish the New York Knicks in an Eastern Conference first-round playoff matchup, but he also has a rooting interest in how the Western Conference playoff picture unfolds. Pierce said Monday that he's pulling for the fourth-seeded Oklahoma City Thunder and the eighth-seeded Memphis Grizzlies, since they both feature a former teammate in Kendrick Perkins and Tony Allen, respectively.
"Yeah, I'm definitely rooting for them," Pierce said of the Thunder. "I'm rooting for Perk and [Tony Allen]. I actually texted them before their games [Sunday]."
Pierce said his message was simple.
"I just wished them luck, [and told them to] lead their teams," said Pierce. "They got valuable experience that they can bring to their teams, so I just told them that and wished them luck."
The Grizzlies managed to pull off a shocking 101-98 Game 1 upset over the top-seeded San Antonio Spurs (Allen finished with seven points, three rebounds, and three assists in 25 minutes), while the Thunder managed to escape with a 107-103 victory over the Denver Nuggets in the opening game of its series, which wasn't without controversy in the final minutes.
With 1:07 remaining and the Nuggets leading 101-100, Thunder guard Russell Westbrook missed a jump shot on the right side, and Perkins tipped the ball back in, only it appeared as if he should have been called for offensive goal tending. Perkins finished with four points, five rebounds, and a blocked shot in 28 minutes.
Despite Pierce's support for the Thunder, he didn't sound very biased when the play was brought up for debate.
"That looked like clean goal tending to me," Pierce admitted.
The Celtics elected to trade Perkins and Nate Robinson to the Thunder in exchange for Jeff Green, Nenad Krstic, and a 2012 first-round draft pick at the February trading deadline, but Allen chose to leave Boston on his own when he signed with Memphis as a free agent last summer. Pierce said he's still unclear as to why Allen decided to join the Grizzlies.
"You know Tony, he's a different dude," said Pierce. "He'll say one thing to one paper and another thing to another paper, and then another thing, and then you've got four different reasons on why he left. And then I just read that [the Celtics] got rid of him and I'm like, 'How do they get rid of you when you signed and they didn't trade you?' So, it's like, that's Tony Allen for you."
Despite Allen's decision, he still has Pierce's support this postseason. If Pierce doesn't want to choose sides on Wednesday night, he might have to move a second television into his living room, as Game 2 between the Thunder and Nuggets tips off at 8:00pm, while the second game between the Grizzlies and Spurs gets under way at 8:30pm.
Greg Payne is a student intern for ESPNBoston.com