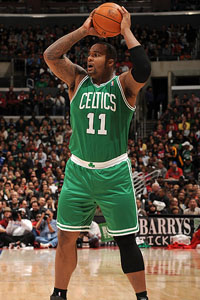 Noah Graham/NBAE/Getty Images
Glen Davis played starter minutes as Boston's top reserve this season.BOSTON -- Celtics reserve forward/center Glen Davis finished fourth in the voting for the NBA's Sixth Man of the Year.
Los Angeles Lakers forward Lamar Odom won the award with a whopping 513 points, landing on 109 of 117 ballots cast by sportswriters and broadcasters throughout the United States and Canada, including 96 first-place votes. Dallas' Jason Terry (244 points) and Philadelphia's Thaddeus Young (76 points) rounded out the top three spots.
Davis actually placed on one more ballot than Young, but received only 19 second-place and 18 third-place votes, and finished a point behind Young, who received two five-point first-place votes to aid his tally.
"That's pretty good," Celtics coach Doc Rivers said when informed of the balloting, but admitted his focus wasn't on any individual awards as his team prepared for Game 2 of an Eastern Conference quarterfinal series with the New York Knicks Tuesday at the TD Garden.
"[Davis has] done a nice job. Obviously, early in the year, he was really good and I thought he tapered off a little bit and has been up and down. But he's been good. He's grown up and is getting better at it."
Davis averaged career highs with 11.7 points, 5.4 rebounds, 1.2 assists over 29.5 minutes per game during the regular season. His shot attempts nearly doubled from last season (10.3, up from 5.2), but so did his makes (4.6, up from 2.3). Davis shot 44.8 percent from the floor and provided a steady presence at both ends of the court, highlighted by absorbing a whopping 46 charges during the regular season.
And in a season in which Boston didn't have a consistent center, Davis spent the most time of any player with Boston's Big Four, often checking in early in the first quarter, then closing out the games with that group.
Davis, who slumped towards the end of the regular season, labored again in Game 1, missing seven of the eight shots he took while chipping in just two points and five rebounds over 25 minutes.
-- 2010-11 KIA NBA SIXTH MAN AWARD VOTING --
The full balloting with player, team, first-place votes (5 points), second-place votes (3 points), third-place votes (1 point) and total points.
Lamar Odom, L.A. Lakers, 96, 10, 3, 513
Jason Terry, Dallas, 13, 50, 29, 244
Thaddeus Young, Philadelphia, 2, 16, 18, 76
Glen Davis, Boston, --, 19, 18, 75
Jamal Crawford, Atlanta, 5, 4, 14, 51
Lou Williams, Philadelphia, 1, 4, 9, 26
James Harden, Oklahoma City, --, 3, 10, 19
George Hill, San Antonio, --, 4, 6, 18
Marcin Gortat, Phoenix, --, 2, 5, 11
J.R. Smith, Denver, --, 2, 1, 7
Tony Allen, Memphis, --, 1, --, 3
Ty Lawson, Denver, --, 1, --, 3
O.J. Mayo, Memphis, --, 1, --, 3
Toney Douglas, New York, --, --, 2, 2
Matt Bonner, San Antonio, --, --, 1, 1
J.J. Reddick, Orlando, --, --, 1, 1
--ALL-TIME KIA NBA SIXTH MAN AWARD WINNERS--
1982-83, Bobby Jones, Philadelphia 76ers
1983-84, Kevin McHale, Boston Celtics
1984-85, Kevin McHale, Boston Celtics
1985-86, Bill Walton, Boston Celtics
1986-87, Ricky Pierce, Milwaukee Bucks
1987-88, Roy Tarpley, Dallas Mavericks
1988-89, Eddie Johnson, Phoenix Suns
1989-90, Ricky Pierce, Milwaukee Bucks
1990-91, Detlef Schrempf, Indiana Pacers
1991-92, Detlef Schrempf, Indiana Pacers
1992-93, Clifford Robinson, Portland Trail Blazers
1993-94, Dell Curry, Charlotte Hornets
1994-95, Anthony Mason, New York Knicks
1995-96, Toni Kukoc, Chicago Bulls
1996-97, John Starks, New York Knicks
1997-98, Danny Manning, Phoenix Suns
1998-99, Darrell Armstrong, Orlando Magic
1999-00, Rodney Rogers, Phoenix Suns
2000-01, Aaron McKie, Philadelphia 76ers
2001-02, Corliss Williamson, Detroit Pistons
2002-03, Bobby Jackson, Sacramento Kings
2003-04, Antawn Jamison, Dallas Mavericks
2004-05, Ben Gordon, Chicago Bulls
2005-06, Mike Miller, Memphis Grizzlies
2006-07, Leandro Barbosa, Phoenix Suns
2007-08, Manu Ginobili, San Antonio Spurs
2008-09, Jason Terry, Dallas Mavericks
2009-10, Jamal Crawford, Atlanta Hawks
2010-11, Lamar Odom, Los Angeles Lakers