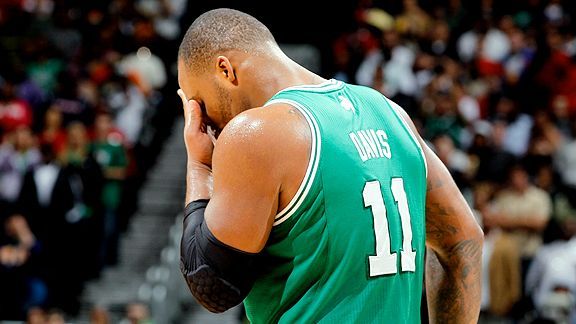 Kevin C. Cox/Getty Images
Celtics coach Doc Rivers said he's going to do everything he can to get better play out of Glen DavisNEW YORK -- After the Celtics' walkthrough on Saturday at Madison Square Garden, Doc Rivers was engaged in a long chat with Glen Davis as reporters were allowed onto the floor. With Davis struggling at the start of the playoffs (an extension of a late-season slump), the topic of the confab wasn't hard to discern.
Rivers is adamant he can help pull Davis from his downturn and put the onus on the coaching staff to do something to help pull the fourth-year forward/center (and his bench brethren) out of their postseason plummet.
"I told him I was buying him dinner, that put a big smile on his face," quipped Rivers. "Listen, we need him. He can play better, I can help him play better. I told him I was going to keep trying to do that as long as he kept up his end, and that was basically it."
Asked if Davis is down on himself, Rivers admitted it was pretty obvious, given how Davis is an emotional player incapable of masking those emotions (both positive and negative). Rivers simply doesn't want Davis walking on eggshells because of his slump.
"Listen, you struggle and play bad, you're down on yourself, that's human nature," said Rivers. "He still has confidence and he'll be fine. Baby is an energy player for us. As Pat Riley used to always tell me and everyone else, thinking hurts the team. When you start thinking what's wrong, you usually play poorly. When you just play reactive and with your instincts, you're probably a pretty good player. And that's what he needs to get back to."
Davis was bubbly after Saturday's walkthrough at Madison Square Garden and tried to stay positive in the face of his struggles.
"It's so hard, especially when you're an emotional player," said Davis. "Any little thing can get you upset and keep you not focused. It looks like I'm having a bad time out there, even though we're winning. It's just something you've got to deal with. My team has faith in me and my coaching staff has faith in me. They've had faith in me this whole year, so I've just got to keep my mind in the right spot. Just making sure I go out there and do what I have to do and always think about the journey ahead, because it's not just one stop. We've got a lot more games to win and my opportunity's going to be there, where I'm just going to think the game without thinking. But I've got to practice. I've got to win the small battles first and that is when situations come up, don't think."
Davis takes pride in the little things he's contributed thus far -- charges, pick-setting -- but knows the team needs more, particularly as the leader of the second unit.
"I feel like I've contributed something, but you guys haven't seen the real Big Baby yet in playoff time," said Davis. "I'm trying to get out there and make it happen for our team."