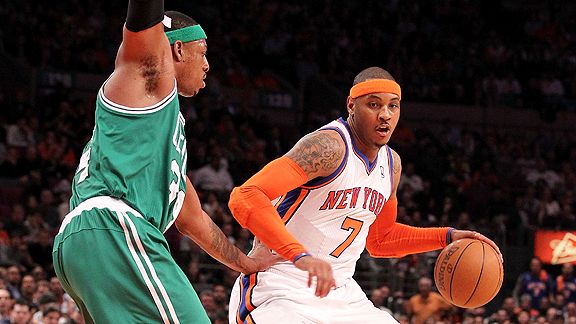 Nick Laham/Getty Images
After Carmelo Anthony's exploits in Game 2, Paul Pierce made Game 3 his own playground.NEW YORK -- Rapid reaction after the Boston Celtics defeated the New York Knicks 113-96 in Game 3 of an Eastern Conference quarterfinal series Friday night at Madison Square Garden. The Celtics lead the series, 3-0.


HOW THE GAME WAS WON
Paul Pierce (38 points, 14-of-19 shooting) and Ray Allen (32 points, 11-of18 shooting) were lights out, combinging to connect on 14-of-19 3-pointers overall as Boston moved a step closer to punching its pass to the next round with a thrashing of the the Knicks in their first home playoff game in seven years. Rajon Rondo quietly added his sixth career triple-double (15 points, 20 assists, 11 rebounds), while Kevin Garnett chipped in nine points and 12 rebounds in a starters-fueled effort. Carmelo Anthony (15 points on 4-of-16 shooting) and Amare Stoudemire (7 points on 2-of-8 shooting) were held quiet for the Knicks.
TURNING POINT
Allen and Pierce came out of the intermission on fire, combining to score 11 points in little more than three minutes (a trio of trifectas in that barrage) as Boston's lead jumped to 13. But it was a four-minute stretch soon after in which the Knicks generated a mere free throw by Anthony as Boston embarked on a 10-1 run and a Jeff Green 3-pointer put Boston up 22 with 2:36 to play in the third quarter. The Knicks made a mini-run early in the fourth frame, forcing an infuriated Rivers to re-insert his starters, but Allen and Pierce simply wouldn't be denied and soon pushed the lead back to 22, sending fans streaming to the exits with 3:45 to play.
STAT OF THE GAME
Glen Davis scored four points late, but Boston's bench mustered a mere 13 points overall, nine of which went to Jeff Green. The bench was a combined 5-of-17 overall and drew the ire of Rivers for giving up the lead whenever they were on the floor.
UNSUNG HERO
Overshadowed by the efforts of Pierce and Allen, Rondo's night will somehow fly below the radar. He was brilliant, despite the fact that Boston couldn't generate nearly as much transition offense as in Game 2 and his shot wouldn't fall around the basket. None of it could detour Rondo.
WHAT IT MEANS
No reason to Tweet about brooms, the Celtics are on the cusp of a sweep and left the New York fans booing their squad despite the massive drought since the last playoff game here. Boston can close out on Sunday with one more quality effort and that would be good for their starters who are logging hefty minutes due to a bench that is really struggling.