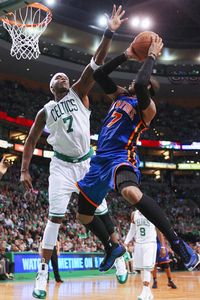 Elsa/Getty Images
Jermaine O'Neal continues to thrive against the New York Knicks.Jermaine O'Neal's performance in the Celtics' 113-96 Game 3 victory over the New York Knicks on Friday didn't result in another trip to the postgame podium.
His stats -- 27 minutes, six points, three rebounds, two assists, and three blocks -- paled in comparison to those of Paul Pierce (a game-high 38 points), Ray Allen (32 points), and Rajon Rondo (15 points, 11 rebounds, and a Celtics playoff record 20 assists), on a night when otherworldly performances were en vogue.
But what might have gotten lost in the midst of the commotion over three incredible showings from three of Boston's All-Stars was that O'Neal registered nearly all of his numbers during a crucial 14-4 run midway through the third quarter that turned the tide of the game in Boston's favor for good.
The Celtics owned a healthy 63-52 edge with 8:25 left in the third period, but when O'Neal trotted back to the bench for a deserved rest just under five minutes later, Boston's lead had ballooned to a commanding 77-56 advantage.
O'Neal played a role in six of Boston's first eight points over the stretch (scoring two baskets of his own and assisting on a Kevin Garnett jumper), but was an even bigger factor on the other side of the ball when the final eight points of the Celtics' run went unanswered.
The Knicks were left scrambling as Boston continued to put pressure on them by hitting shots of its own, but whenever New York tried initiating a shot around the rim, it was O'Neal who stood up and denied them. At first he was merely a deterrent, like when Toney Douglas broke out in transition towards his own hoop, only to be impeded by a sprinting O'Neal, who displayed a speed that hasn't been seen from him in a game in many months.
But soon O'Neal's role became that of an enforcer, as he routinely rejected New York's bids at the rim, serving as a one-man brick wall the Knicks just couldn't get shots over.
Carmelo Anthony was the first victim, as O'Neal smacked away what would have been a short jumper off of a post-up on the right side. Next it was Bill Walker, who was whistled for an offensive foul when he extended his arm to ward away O'Neal who rose up to contest his layup attempt. Then it was Jared Jeffries, whose shot attempt collided with O'Neal's outstretched palm and O'Neal's show of force won out, forcing Jeffries back to the floor and the officials to call a jump ball.
Every shot near the rim the Knicks took over the final three minutes of the 14-4 push was impacted by O'Neal in one way or another. It was the show of defensive muscle the Celtics needed, as O'Neal let the Knicks know nothing would come easy against him in the lane. The Knicks were left to hoist mid-range jump shots and 3-pointers over the stretch, which was perfectly acceptable for Boston, whose defense is aimed at forcing opponents to settle for contested jumpers. O'Neal checked out with 3:41 left in the third and the Celtics boasting a 21-point advantage -- their largest of the game.
Rondo, Allen, and Pierce might have stolen the headlines for their historic nights, but it was O'Neal who helped steal the heart from the Knicks, at a point when the Celtics put a decisive stranglehold on their victory, and a 3-0 series lead.
Greg Payne is a student intern for ESPNBoston.com