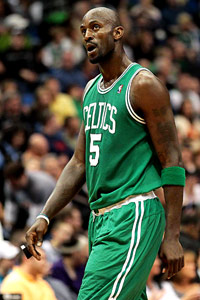 Jesse Johnson/US Presswire
Kevin Garnett is quietly putting together a solid postseason.When the Celtics needed Kevin Garnett to score at the tail end of their 96-93 Game 2 victory on Tuesday, he was happy to oblige. The spotlight shined on Garnett for 24 hours after his go-ahead jump hook over Jared Jeffries with 13.3 seconds left gave the Celtics the lead for good on their way to a 2-0 series lead.
But over the course of Boston's 113-96 Game 3 victory on Friday, the spotlight was on a swivel, darting back and forth on Boston's other three All-Stars in Paul Pierce (38 points), Rajon Rondo (his sixth career triple-double), and Ray Allen (32 points). It was clear the offense would be dictated by them as the evening progressed, and, just like when he was asked to be selfish, Garnett obliged when he was asked to act selfless.
After taking a total of 30 shots through the first two games of the series, Garnett took a backseat to his All-Star brethren, taking only nine shots and connecting on four of them. He finished with a modest nine points, but compensated with four assists and a game-high 12 rebounds, to go along with three steals. His only blemish was his dent in the turnover column (he committed a team-high five), but his continued effort on the glass overshadowed his shortcomings.
The performances of Rondo, Allen, and Pierce were enough to drive the Celtics towards a dominant 3-0 series lead, but they still needed solid outings from other players to help steer their vehicle to the final destination. Garnett was just that: solid. He, along with Jermaine O'Neal (six points, three rebounds, three blocks), were the needed figures of sturdiness for Boston, which once again was helped minimally by its reserves, who chipped in just 13 points.
"I'm just happy with the way we showed grit and between Kevin [Garnett] and [Jermaine O'Neal] holding down the paint, [Glen Davis], all our bigs did a great job in the paint [Friday night]," said Paul Pierce.
Garnett's night was not reminiscent of the many showings that have warranted trips to All-Star games and will eventually lead to a Hall of Fame induction. But he played his usual pesky defense, he kept the ball moving, and his attention to detail on the glass was vital for a Boston team that allowed 20 New York offensive rebounds in Game 2 and 24 second-chance points.
The Celtics entered Game 3 prepared to deter a repeat performance from New York, and Garnett was instrumental in that process. Eight of his 12 rebounds came on the defensive end, and the Celtics as a team finished with a 43-33 edge on the glass. More impressively, Boston pummeled the Knicks with a taste of their own medicine, as they gobbled up 13 offensive rebounds of their own (10 of which came courtesy of Garnett and Rondo) and converted them into 23 second-chance points.
Garnett's been the Celtics' rock of consistency on the boards through the first three games of this series. He's grabbed 25.4 percent of all available defensive rebounds, according to Basketball-Reference.com, good for the highest of any Celtic or Knick who's played significant minutes.
"One of the things we worked on in practice is rebounding better off the help," said Garnett after Friday's win. "We are a help defensive team, but our second effort has to be a lot more valid and I thought tonight we did just that. I also thought there are times when, usually the ball hits the rim, you sort of sit there and watch. Tonight, we got bodies on bodies and were able to get some rebounds."
It's unclear who will garner the spotlight on Sunday when the Celtics seek to complete a first-round sweep of the Knicks, but Garnett's made it clear: Whether the Celtics need him to be a superstar or just solid, he'll be happy to oblige.
Greg Payne is a student intern for ESPNBoston.com