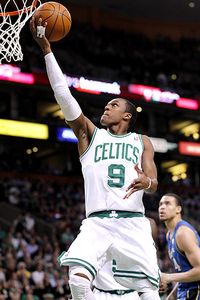 Greg M. Cooper/US Presswire
Rajon Rondo and the starters need to shoulder the load against Miami.WALTHAM, Mass. -- The Celtics' reserves scored a total of 60 points and sacrificed what felt like just as many of the starters' leads over the course of Boston's opening round four-game sweep of the New York Knicks, leading to a wave of speculation as to how much they'll help the Celtics throughout their Eastern Conference semifinals matchup with the Miami Heat.
But prior to Boston's practice Thursday at the Sports Authority Training Center at HealthPoint, Celtics coach Doc Rivers halted the speeding train suggesting the bench will be the deciding factor against the Heat.
"[The bench is] important, but at the end of the day, guys, starters are the key," said Rivers. "Your starters play well -- your bench obviously has to give you help, and I think we have enough guys -- but make no mistake, [when] the starters are playing well, you have a very good chance at winning playoff games."
The Celtics experienced that firsthand in their first round victory over New York, in which each member of the quintet of Rajon Rondo, Ray Allen, Paul Pierce, Kevin Garnett, and Jermaine O'Neal shot at least 45 percent from the field and was very productive in his respective area of expertise.
Rondo was back to pushing the pace and averaged 12 assists per game; Garnett averaged a series-high 11.3 rebounds per game and helped anchor Boston's back defensive live; Allen shot a glossy 65.4 percent from 3-point nation; Pierce averaged his expected 22 points per game and helped to limit Carmelo Anthony to 37 percent shooting for the series; and O'Neal was a defensive force, as he blocked and altered shots and drew charges on a consistent and game-changing basis.
That type of production will be crucial against a much more formidable Miami team that not only will be much more dedicated on the defensive end of the floor than the Knicks were, but boasts the combined talents of three perennial All-Stars in LeBron James, Dwyane Wade, and Chris Bosh.
The Celtics might sport a deeper team -- something Glen Davis suggested before Wednesday's practice -- but Rivers dismissed that as a potential disadvantage for Miami.
"They have two pretty good guys -- three pretty good guys -- that they're going to play 40 minutes, so I don't think anybody has that big of a bench problem during the playoffs," Rivers said. "Honestly, they have enough guys, they'll move them around. You see, even [Wednesday] night, they changed their rotations in the middle of the game. But they do have enough veterans that they can do that, honestly. I don't think they have any issues."
This isn't to underscore the potential impact of the bench entirely. As Rivers noted, the reserves will have to provide support to a Boston starting contingent that is hoping to outshine its Miami counterpart. And ideally, that support will be better than what the Celtics received against the Knicks, when the starters accounted for 337 of Boston's 397 points in the series.
"We've got to have, this series, somebody off the bench who's going to perform," said Davis. "If it's not me, it's Delonte [West]. If it's not Delonte, it's Jeff [Green]. We're going to need that. I think we're prepared."
The Heat witnessed in their series-deciding Game 5 victory over the Philadelphia 76ers on Wednesday (with the majority of the Celtics watching on their televisions) just how impactful a reserve player can be, as Mario Chalmers tied a career-playoff high with 20 points off the bench. He buried six of his 12 3-point field goal attempts, including three in the opening quarter, which helped dig Miami out of an early 10-point hole.
Certainly neither team will complain if one of its reserves comes out with an explosive performance. But at the end of the day, playoff games are most often decided by a team's stars, and the heaviest lifting in this series -- on both sides -- will be done by the players who comprised more than half of the 2011 Eastern Conference All-Star team. The Celtics will be more likely to overcome an off night from Green than from Pierce, the same way the Heat will be more likely to scrape by with a poor showing from James Jones as opposed to Wade.
It'll be a series heavily dependent on things like Rondo exploiting his matchup with whoever Miami throws at him, Pierce limiting James' scoring opportunities as much as he can, and Garnett gaining as much of an edge over Bosh on both ends of the floor as possible. Whichever team garners the most consistency from its respective group of stars will fare much better in its attempts to reach the Eastern Conference finals.
Greg Payne is a student intern for ESPNBoston.com