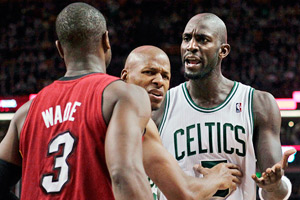 AP Photo/Elise Amendola
Kevin Garnett and Dwyane Wade arguing in the regular-season? Won't matter now.WALTHAM, Mass. -- Despite winning three of the four regular-season matchups against the Heat, don't expect the Celtics to hang their hat on regular-season success. Coach Doc Rivers is quick to dismiss regular-season play because of all the variables involved and suggests the playoffs truly are a new season.
"You don't use any of them," Rivers said of the regular-season games. "No, you use all of them, but you don't overplay any of them. They are all single games. Again, during the regular season, you don't know how your team is playing, you don't know if they're injured or tired from travel.
"I'll say it again, the regular season is so overplayed, it really is. There's things you can get out of it, but for the most part, what you get out of the regular season is you see a solid play. How they play you, how you play them. Then you put it on the floor."
Rivers has stressed that to his team and the fact that Boston got absolutely leveled in the final meeting of the season only reinforced that the games earlier in the season mean little at this point.
"You know, we look at [the fourth meeting] and look at how we needed to get that win, and they beat us," said Glen Davis. "But at the same time, when you look at it, we're not at a team that looks at things so easily. We really look at that win as for something to gain. To have them 4-0 would, mentally, be a different experience. But for them to get that one win, they know they can win. But at the same time, now it's a series and we've got to go play."
For those that want a refresher on the regular-season series, check out the game-by-game breakdown below. Follow the "full coverage" links for all the content in our ESPN Boston blog for that game.
Game 1: Oct. 26, 2010 -- Celtics 88, Heat 80 -- Full Coverage
Game 2: Nov. 11, 2010 -- Celtics 112, Heat 107 -- Full Coverage
Game 3: Feb. 13, 2011 -- Celtics 85, Heat 82 -- Full Coverage
Game 4: April 10, 2011 -- Heat 100, Celtics 77 -- Full Coverage