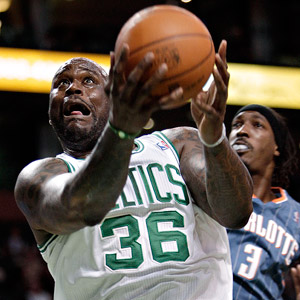 AP Photo/Stephan Savoia
The ShaqWatch continues, but Doc Rivers is confident Shaquille O'Neal will play vs. Miami.WALTHAM, Mass. -- Boston Celtics coach Doc Rivers said he remains uncertain when ailing center Shaquille O'Neal will return to game action, but expressed heightened confidence Friday in his potential to do so in an Eastern Conference semifinal series against the Miami Heat.
"He just did a little bit yesterday, maybe some more today," said Rivers. "Really that's the only update I have. No decision has been made or anything. I'm more confident now that he'll play in this series. I don't know when. Maybe [Game] 1, maybe [Game] 2. But I do think he'll play."
According to Rivers, O'Neal participated in limited portions of Thursday's walkthrough and there was hope he'd ramp up that workload a bit Friday, but Rivers wasn't sure how much live action he'd see.
"He just did some stuff with [team trainer] Eddie [Lacerte on Thursday]," said Rivers. "Eddie's more confident that he'll play, so that makes me more confident."
Pressed on what O'Neal might need to show in order to be ready for Game 1, Rivers said that wouldn't likely come until this weekend.
"He needs to show something [Saturday], maybe," said Rivers. "Then feel better after that. Listen, I wish I could tell. I have no idea. I really don't. My confidence comes from Eddie. Eddie walked in and said, 'I feel a lot better about it.' So, I feel better about it. That's as much as I can tell you."
O'Neal has been limited to 5½ minutes of game action since Feb. 1. He traveled with the team to New York for the final two games of Boston's first-round sweep of the Knicks and there was hope the week off between series might allow them to get him in game shape.
Rivers is confident Shaq, once healthy enough for game action, can still have an impact on this series, while noting it would be in a reserve role.
"When he walks on the floor, he's still 7 feet tall," said Rivers. "And he weighs what he weighs. Of all the players on our team, he probably has the easiest task of being who they are, because that's all he can be. That's pretty good."