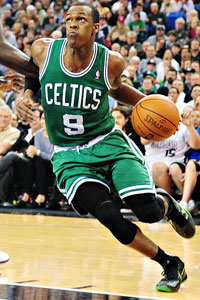 Kyle Terada/US Presswire
Rajon Rondo and the Celtics have to take care of the basketball this round.WALTHAM, Mass. -- Despite a spotless record in their first-round sweep of the New York Knicks, the Celtics aren't turning a blind eye to the areas in which they could have performed better. The C's know they turned the ball over too many times for their own good (nearly 17 giveaways per game, which translated to an average of 18 Knicks points per contest), and those miscues, coupled with an increased effort in the rebounding column, have been highlighted as two major components of their second-round duel with the Miami Heat.
"Rebounding and no turnovers," said Glen Davis when asked what first came to mind about Boston's matchup with Miami. "If we rebound, [don't commit] turnovers, and just play simple basketball, it's going to be hard to beat us."
Added Paul Pierce: "I'm sure that's going to be a big emphasis, talking about our turnovers. They're a track team once they get out in transition, it's hard to keep up with them, so you don't want to turn the ball over. And another thing for us is going to be our rebounding, how well we're going to be able to rebound in the trenches on the defensive end. That's been something we've been inconsistent with, but I think we've been a lot better since the playoffs started and we're going to have to continue that trend."
This core group of Celtics has had a history of turning the ball over at a high rate, dating all the way back to when Pierce, Kevin Garnett, Ray Allen, and Rajon Rondo combined their powers in 2007. This past season, they did little to shake that trend, as they finished 27th in the league in turnover rate (a stat that measures the percentage of a team's possessions that ended in a turnover).
But curtailing their giveaways as much as possible will be vital against a Miami team capable of converting them into hard-to-defend transition opportunities. LeBron James and Dwyane Wade are two of the NBA's most dynamic finishers on the break, and they'll be looking to feast on breakaway opportunities (or at least get to the charity stripe). The Heat finished in the top half of the NBA in fastbreak points with an average of 14 per game during the regular season.
"They're tough to defend when they get out in transition, with Wade running one lane and LeBron, and you've got Chris [Bosh] coming down the middle," said Jeff Green. "We've just got to take care of the ball and get layups."
Green hinted at the ideal formula for Boston: Run, but don't get run on. It's the same strategy they employed against the Knicks in the first round, only it holds more merit this time around, and not just because the stakes are higher. Miami is a much better defensive team than the Knicks were, and the Celtics will most likely have a harder time scoring the basketball. By turning the ball over, the Celtics would not only be limiting their own chances of scoring, but they'd be opening themselves up to being run on, and just like that, the formula would shatter.
"From here on out we've just got to take care of the ball," said Rondo. "You can't win if you turn the ball over, so we've got to focus on taking care of the ball and it starts with myself."
Turnovers, though, are a part of the game, and no matter how many times players emphasize not giving away the basketball to their opponent, they are still bound to occur. The best a team can hope to do is limit them as much as possible, and, as Davis noted, keeping things simple is a big part of that. Rather than making the fancy, highlight-worthy, and home run passes (all of which the Celtics were guilty of at times against the Knicks), the Celtics will aim to make the simpler passes and still get the desired results within their team-oriented offense.
"They've got guys that really make you pay in transition off turnovers," said Delonte West. "You can try your best and be more conscience of it, try not to make the home run pass. But it's tough when it's a game of mistakes. With the athleticism of guys and everyone moving and locked in and playing intense basketball, turnovers are going to happen. You've just got to try to limit them as much as possible. It's a game of mistakes."
Their mistakes may not have burned them yet, but the Celtics can't afford to keep playing with fire.
Greg Payne is a student intern for ESPNBoston.com