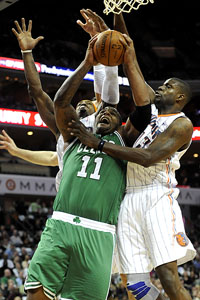 Sam Sharpe/US Presswire
Glen Davis and the Celtics are focused on not allowing second-chance opportunities.WALTHAM, Mass. -- Dealing with the likes of LeBron James, Dwyane Wade, and Chris Bosh just once on the defensive end is difficult enough. But having to combat them two or three consecutive times without a change of possession will eventually spell disaster.
Which is why defensive rebounding will be a necessity for the Celtics throughout their Eastern Conference semifinal matchup with the Miami Heat.
The Celtics allowed too many offensive rebounds in their opening-round four-game sweep of the New York Knicks, to the point where they almost coughed up Games 1 and 2, when the Knicks scored a combined 34 second-chance points off of 33 offensive rebounds.
One of the biggest concerns with surrendering offensive rebounds is the added (and unnecessary) pressure it puts on a team's defense. In the case of the Celtics, they could very well play 23 seconds of brilliant halfcourt defense and force the likes of James or Wade into a contested jump shot, then have it all fall apart when Bosh or another Heat big man snares the miss and either goes back up for a higher percentage shot or kicks the ball back out, thus allowing Miami to reset its entire offense.
Surrendering second-chance opportunities to the likes of Jared Jeffries and Bill Walker is one thing, but giving those same opportunities to two of the NBA's elite scorers in James and Wade is a completely different animal. Not only is it physically draining for a team to have to play back-to-back defensive possessions against a very capable offensive team, but it's mentally taxing as well, when the realization settles in that the hard work that was just put in ended up being for nothing. The Heat have a number of capable rebounders, including James, Bosh, Wade, and Joel Anthony -- one of Miami's unsung heroes for his physical defense and attention on the glass.
So, what can the Celtics do? They boast an elite rebounder in Kevin Garnett, who ripped off over 22 percent of all available defensive rebounds in three of the four games in the first round against the Knicks. Beyond Garnett, though, the Celtics don't have many other rebounding threats. Shaquille O'Neal would count as one, but his status remains up in the air for this series. Rajon Rondo, who averaged 7.3 rebounds against the Knicks in the first round, might be Boston's second best option, and he said he'll try to make his mark in this area.
"I tried to do it last [series], but I think everybody has to rebound," Rondo said before the Celtics practiced at the Sports Authority Training Center at HealthPoint on Friday. "There are a couple of key guys that we have to keep off the glass, so I'm going to do what I can do to help."
The concept of everybody crashing the glass has garnered its own term: Gang rebounding, and Rondo's right about the C's needing that type of concerted effort. Even the Celtics' reserves will have to be impactful on the glass, most notably Jeff Green and Glen Davis, who both struggled at times against the Knicks.
"Yeah, we're going to try to take advantage of us coming in the game against the opposing team's second unit," said Green, who grabbed a series-high seven rebounds in Game 4 against New York. "We've just got to see the mismatches and just try to take advantage of them."
Said Rondo: "Definitely Jeff. He's so athletic. He can definitely help us by rebounding the ball, especially with the second unit."
One danger the Celtics also need to avoid is having their big men over-help on Miami's stars, which often takes them out of position to rebound the ball. They were guilty of it in their 100-77 loss to the Miami Heat in the fourth and final meeting between the clubs at the end of the regular season, in which the Heat won the rebounding war 42-26 and finished with 15 offensive boards and 18 second-chance points.
A similar issue plagued the Celtics in Game 2 against the Knicks, when they sent an extra defender to thwart Carmelo Anthony who was in the midst of a 42-point barrage. The Knicks grabbed 20 offensive rebounds and finished with 24 second-chance points as a result.
"We look at [the regular season finale vs. the Heat], you look at Game 2 vs. New York, [it's] almost exact same game," said C's coach Doc Rivers. "[We] decided to overhelp, it wasn't really helping us. We were way off the body, we were asking for trouble. We tend to do that, honestly, every time we do, we get lucky and don't get hurt by it, or we get crushed by it. I know it's tough for help defenders when they see Wade in [isolation], or LeBron, not to go support, but when you do that, they're going to shoot it anyway. A little support is not going to help. Then you're off the body, so you're getting hurt both ways, so we can't fall into that trap."
Greg Payne is a student intern for ESPNBoston.com