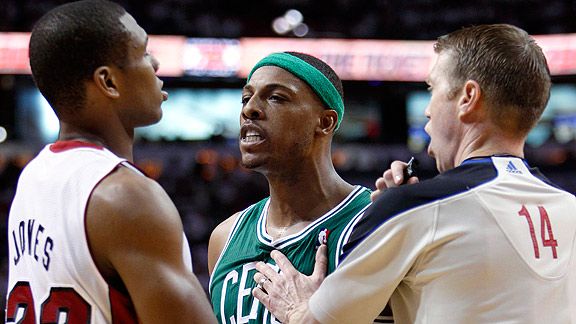 AP Photo/Wilfredo Lee
Paul Pierce gets in the face of James Jones after a fourth-quarter foul earning the first of two techs.MIAMI -- Referee crew chief Dan Crawford conducted a postgame interview with pool reporter Tim Reynolds of the Associated Press to explain the fourth-quarter technical fouls that led to the ejection of Celtics captain Paul Pierce. Below is the transcript:
What did Paul Pierce do to merit the second technical with seven minutes remaining?

Crawford: "It's what we call a verbal taunt. He directed profanity towards [Dwyane] Wade. And in the rulebook, that is a verbal taunt. And it just so happened to be Pierce's second technical foul."

What did Pierce do for the technical after the [James] Jones foul with 7:59 left?

Crawford: "The first technical foul, it was contact during a dead ball. He approached Jones and got right in his face. There wasn't a head-butt, but he got right into his face after a hard foul."

Why did Jones merit a technical with 7:59 remaining?

Crawford: "We just looked at that [on video after the game]. It was Jones' hard foul that pretty much precipitated Paul doing what he did. The technical foul on Jones will probably be looked at. He didn't do as much as we thought. We thought he got in and became aggressive or initiated. But after looking at video, that's something that we'll have to look at again."

Was Wade's technical for the foul, verbal taunting, or otherwise?

Crawford: "He actually walked toward Pierce and that's why Wade received his, walking toward Pierce and then Pierce's reaction to that."
---
Here's more postgame reaction from coaches and players:
Celtics coach Doc Rivers: "I thought both [fouls on Jones and Wade] were flagrant fouls, personally, and I don't think we should react to either one," said Celtics coach Doc Rivers. " I thought James Jones' was a clear flagrant, went right for the head and grabbed. And I thought Dwyane Wade's was an absolute flagrant. He was just trying to run through Paul. I told Paul, 'You still don't react.' I thought, as a whole we were the retaliating team tonight. We were never the first-hit team. But I really thought both were absolutely flagrant fouls, they should have been called."
Celtics guard Ray Allen: I didn't think anything happened that warranted him getting a [second] technical foul. He's emotional. Dwyane Wade is trying to run through him and he's trying to set a screen. I don't think he did anything over the top. Again, it's us learning how to get out of those situations and back away from them."
Celtics forward Kevin Garnett: "It wasn't something that escalated or I felt like that needed to be blown out of proportion. I thought Ed [Malloy] did that, but he made the best judgement that he felt and made the call. It's what it is. It's over."
Miami guard Dwyane Wade: "It was a physical game. It is the playoffs. I was trying to get through a screen. I ran through it. He followed me. Paul had some words for me and the referee thought it was a little too much. [Malloy] gave me the technical foul and Paul a technical foul. We move on."
Miami forward James Jones: "It was just one of those things where a foul happened and it's a very emotional roller coaster that we're playing on. He got a little emotional and we got into something that should have really been nothing. But it happens when you're on the stage. I was just trying to go for a wrap-up foul. Just to make sure he didn't get an 'and-one.' He's one of the best at finishing after contact, so in that situation, I wanted to make sure he got two free throws and nothing more."