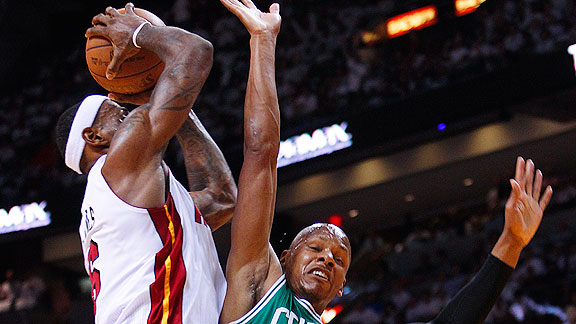 AP Photo/Wilfredo Lee
Miami's LeBron James goes strong at Boston's Ray Allen during Game 2.MIAMI -- Rapid reaction after the Miami Heat defeated the Boston Celtics 102-91 in Game 2 of their Eastern Conference semifinal series Tuesday night at American Airlines Arena to take a 2-0 series lead:


HOW THE GAME WAS WON
LeBron James scored a game-high 35 points on 14-of-25 shooting, while Dwyane Wade kicked in 27 more to pace Miami. Rajon Rondo led five Boston players in double figures with 20 points (to go with 12 assists). Kevin Garnett put up 20 shots and chipped in 16 points while keying Boston's rally to tie the game in the fourth quarter, but went quiet late.
TURNING POINT
Down seven entering the final quarter, the Celtics rallied to tie the game at 80 with 7:09 to go. But Miami embarked on a 14-0 run ignited by a Mario Chalmers 3-pointer followed by seven straight points from James. While the Celtics missed six straight shots, the Heat lived at the charity stripe, and a freebie by Chris Bosh with 3:28 remaining had the Heat on top 94-80.
STAT OF THE GAME
The Miami Thrice were a combined 27-of-54 shooting for 80 points, while Boston's Big Three were 15-of-37 shooting for 36 points.
UNSUNG HERO
Jeff Green could have occupied this spot, scoring 10 points while Paul Pierce went to the locker room to ice a foot strain in the first quarter. But Green finished with 11 points and gave up too many buckets on the defensive end.
WHAT IT MEANS
The Celtics have never faced a 2-0 deficit in the Big Three era and now have the daunting task of winning four of the next five games in order to extend their season. That's even more daunting given the opponent, a Miami team that hasn't blinked when Boston had made its runs. Going home to the Garden will help, but there's virtually no margin for error now with the Celtics.