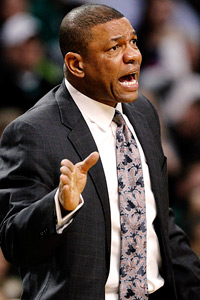 Mark L. Baer/US Presswire
Celtics coach Doc Rivers has been fined for incidents with two of the three officials in Game 3.Here's the referee assignment for Saturday's Game 3 between the Celtics and Heat: Steve Javie, Bob Delaney, and Bill Kennedy (Michael Smith is the alternate).
Forgive Celtics fans if they roll their eyes at that lineup. Doc Rivers and his players have a recent history with all three game officials and, while those past issues are unlikely to affect Saturday's game, it's worth a quick recap of those incidents:
* Javie tossed Rivers from a forgettable loss in Phoenix in January (the same game Kevin Garnett got ejected from for his low blow on Channing Frye). Rivers was fined $15,000 for not leaving the court in a timely manner.
Said Rivers of Javie: "He actually came into our huddle. We were standing there, he came up to us. I'll tell you exactly what was said. He said, 'You guys are complaining way too much.' And I said, 'Well, let's make the right calls.' And his answer back was, 'I'll make a call for you.' And that's how I got the tech... I didn't have any choice words for him. I didn't say a word. I didn't even swear then. You know what I said? 'It's about the game. It's not about one individual.' That's all I said, over and over again."
* Delaney drew the ire of Shaquille O'Neal in a Christmas Day matchup against Orlando in which the Big Shamrock fouled out in only 13 minutes of play during a nationally televised battle. O'Neal was fined $35,000 for his comments on the officiating.
Said Shaq of Delaney: "I guess they came out to see No. 26 [Delaney's uniform number] today. He was a great player out there today... [Fans] paid all that money to watch No. 26 play. If I was a fan, I would be pissed. You pay all that money for good seats, you have two of the best guys in the [NBA] sitting on the bench, out of the game. That is what happens when you have control freaks out there."
* Rivers and Kennedy landed in the headlines during the 2008-09 season after Kennedy gave Rivers the gate in a game against the Chicago Bulls. Rivers was fined $25,000 and Kennedy was also fined for the incident.
Said Rivers of Kennedy: "The technical on which I got thrown out was the most unprofessional technical by a ref I've ever had. He stood there and goaded me and goaded me and stared at me. Look at the film. I actually walked away. He asked me, 'Where do you want the ball?' And I said, 'Ask them,' talking about my players. That's my right to say that, and he walked away... He stood there and stared me down and stared me down and goaded me until I turned around and said, 'What?' That's when I got thrown out of the game. In a [5-point] game? Think about that."