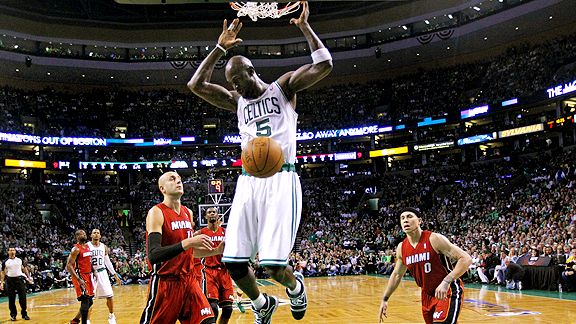 AP Photo/Charles Krupa
Kevin Garnett carried the Cetlics to a Game 3 victory.BOSTON -- Rapid reaction after the Boston Celtics defeated the Miami Heat 97-81 Saturday night in Game 3 of an Eastern Conference semifinal series at the TD Garden. The Heat lead the series, 2-1:


HOW THE GAME WAS WON
Kevin Garnett produced one of his most inspired postseason efforts in a Boston uniform, registering 28 points on 13-of-20 shooting, while grabbing 18 rebounds over 38 minutes, while Paul Pierce chipped in 27 points on 9-of-20 shooting over 40 minutes. But it was the return of Rajon Rondo, who had dislocated his elbow midway through the third quarter that was the story of the night. Boston's medical staff popped the injury back into place and Rondo returned at the start of the fourth frame to chip in six points and 11 assists on the night. Dwyane Wade registered 23 points for Miami, while Mario Chalmers (17 points) had more points off the bench than LeBron James (15).
TURNING POINT
Garnett scored 14 points in the third quarter, connecting on seven of the eight shots he put up while scoring half of Boston's points in the frame. His two buckets coming out of the intermission ignited a 16-4 run that turned the Celtics' two-point halftime deficit into a 60-50 lead with 7:01 to play in the frame. Even with Rondo sidelined in the third frame, Boston rode Garnett to the finish of the third frame and still had an 11-point lead heading to the final frame.
STAT OF THE GAME
Garnett putting up 20 shots was key, but it was his defense that made Chris Bosh a nonfactor that shone through. Bosh finished 1-of-6 with only six points and played only 29 minutes. The Heat as a whole shot only 42.5 percent (31 of 73 overall).
UNSUNG HERO
Delonte West, who bruised his own shoulder in the second quarter, chipped in 11 points on 4-of-7 shooting, hitting a pair of 3-pointers, and adding three assists over 25 minutes. His play, particularly with Rondo sidelined for a stretch, was crucial for the Celtics.
WHAT IT MEANS
Depending on if Rondo is able to continue playing through the elbow injury, the Celtics might have gained more than a win in this one. With an inspired second-half effort, the Celtics took all the momentum Miami had in this series and have guaranteed this series will go back to South Beach. Boston needs to carry over the positives into Game 4 on Monday night, but a 2-1 deficit looks far less daunting than the 2-0 hole they faced entering Saturday's action.