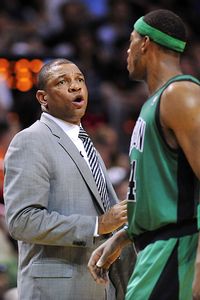 Steve Mitchell/US Presswire
Doc Rivers should be on the Celtics' sideline for the foreseeable future.Making his final weekly appearance on WEEI's "The Big Show" on Thursday, Celtics general manager Danny Ainge spoke at length about his team's recently concluded season, as well as a number of important issues facing the Celtics in the offseason, including the respective futures of head coach Doc Rivers and forward Jeff Green, as well as a potential change in what has been the team's customary starting lineup the past four seasons.
After Wednesday's Game 5 loss to the Miami Heat, Rivers said he's leaning towards returning for another season, and Ainge said on Thursday the two sides are closing in on a long-term contract.
"I think Doc is coming back," said Ainge. "We have talked all year. I got the impression that he wanted to come back a few weeks ago and that that was the way he was leaning. But we've been talking and I think we'll get something done here very shortly for a long-term contract."
Ainge later expanded on the subject, suggesting Rivers is open to the idea of coaching the Celtics for years to come, similar to the way long-time Utah Jazz coach Jerry Sloan stayed with one team for the majority of his career.
"I think Doc is a coach at heart. I think Doc likes the idea of staying in Boston," said Ainge.
"I think that if there comes a time when our goals change for a year or two -- as an example -- if it comes time to have a goal of, 'Let's make the playoffs,' or, 'Let's develop these [players],' I think Doc would welcome that challenge as well. I think that he's a coach and he's a teacher and he knows that every single year of your career you can't be fighting for an NBA championship and very few people get to do that. I think that he sort of likes the idea of being a Jerry Sloan type of coach and being with one franchise for a long time and that's what we're hoping that he'll do and I'm confident that we can get him signed to a long-term contract."
Ainge reiterated statements from Rivers and players following Wednesday's loss, saying the Celtics need to make a host of moves over the offseason in order to be able to contend for an NBA championship once again next season.
"We need to make changes for sure... But having said that, that's my job to evaluate the reasons why we didn't play like we're capable of playing," said Ainge. "But we do have a team that next year come playoff time will be a year older and a team like Miami is in the prime of their careers. We need to get a little better. We need to get deeper and sure up some positions."
Regarding Boston's core players, Ainge said he believes the likes of Paul Pierce, Ray Allen, and Kevin Garnett can still be very productive players, but that they do need a stronger supporting cast around them.
"I think they still have a lot of basketball left in them," said Ainge of the Big Three. "Although, knowing Father Time never loses, I think that their being able to carry a team night-in and night-out days may be over. But the ability to be contributors to a very good basketball team is still there... But we need to surround them with better players if we have any opportunity of winning a championship next year."
Ainge was later asked about potentially trading any of the Big Three this offseason, and he admitted he wouldn't rule out the idea entirely.
"I would have to look into that if a good trade came about," Ainge said.
As for Rajon Rondo, Ainge said trading the All-Star point guard is not in his immediate plans.
"Yeah, probably not," said Ainge of moving Rondo. "I can't ever say never. But that's not our plan right now. Absolutely not."
Regarding Jeff Green, a restricted free agent, Ainge said he expects to make Green a qualifying offer before the July 1 deadline, and should the 24-year old forward return to the Celtics next season, Ainge said he would have a much larger role on the team and could even find himself in the starting lineup, hypothetically suggesting Paul Pierce could come off the bench.
"I'm just hypothetical," said Ainge. "I have no idea if that's going to happen. Paul's in great shape. Paul is a total team guy, Ray's a total team guy, I mean, who knows. I'm just saying that, if Jeff Green is back next year, I think his role will be expanded, and it wouldn't totally shock me if there was a change in the starting lineup. But that's way too early to tell those kinds of things."
Ainge was asked if he would have done anything differently and he did not harp on the heavily-criticized Kendrick Perkins trade. Instead, he said he said he would have done more to re-sign guard Tony Allen, who elected to sign instead with the Memphis Grizzlies, who are currently battling the Oklahoma City Thunder (and Perkins) in a Western Conference semifinal matchup.
"I would have fought harder to bring Tony Allen back," said Ainge. "We tried to sign Tony, we tried to keep within our guidelines, our rules of sort of a two-year window and a two-year program. I think if I had come out of the gate with a three-year offer from Tony right from the get go -- which I ended up offering him eventually -- I think we would have had a deal done. And I think that Tony could have helped us this year."
Greg Payne is a student intern for ESPNBoston.com