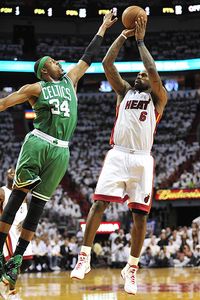 Steve Mitchell/US Presswire
The Celtics watched as LeBron James helped end their season.The Celtics' 2010-2011 campaign ended on Wednesday night, roughly a month or so earlier than the team had originally envisioned. As has been the case with this club the last four years, any season ending with something short of a championship will ultimately be regarded as a failure. The Miami Heat ended Boston's playoff run this time around, and as we look back and assess the series, several reasons jump out as to why the Celtics were unable to advance to the Eastern Conference Finals.
1. Turnovers: It was harped on throughout the series, so it only seems appropriate to reiterate it now that the series has ended: The Celtics simply could not afford to turn the ball over against the Heat, and despite them knowing this and understanding what would result if they did, they still managed to fork the ball over an average of 14.8 times per game over the course of the five-game series. The number itself isn't too appalling, but it seems much uglier considering the Heat averaged 20.2 points per game off of those turnovers.
The miscues themselves were fairly maddening, since so many were unforced. Game 5 alone offered enough to illustrate the point. There was the outlet pass from Ray Allen that Delonte West caught up with and fumbled out of bounds, the ill-advised behind-the-back pass Kevin Garnett tried to sneak through Miami's interior defense to Jeff Green that immediately caused Garnett to raise his hand in accountability, and the cross-court pass from Paul Pierce to Green with a minute left that ended up in the first row.
Turnovers have been, and will continue to be, a part of the NBA, but the unforced ones the Celtics were guilty of can be curtailed. Whether it was due to a lack of focus, discipline, or something else entirely, this core group learned a valuable lesson about the dangers of handing the ball over to an opponent that is younger, more athletic, and perhaps even more talented.
2. Age/Injuries: The "What if?" wheel will certainly be spinning for Celtics fans the next few weeks. What if Shaquille O'Neal had been healthy and able to play? What if Rajon Rondo never dislocated his left elbow in Game 3? What if Jermaine O'Neal's back never tightened up on him and what if his left wrist was healthy?
Those are fair questions, because, the truth is, throughout the series, Doc Rivers was unable to roll out the lineups he really wanted to utilize. Originally, Shaq was a big part of Boston's postseason plans and he managed to play a grand total of 12 hobbled and ineffective minutes. Meanwhile, any potential for Rondo to control the series similar to how he did against the Cleveland Cavaliers last season went out the window the second that elbow popped out of place. Add in a balky back and a sore shoulder and it's probably a miracle Rondo was even still standing by Game 5.
As for Kevin Garnett, Ray Allen, and Paul Pierce, there were plenty of points in the series when Father Time seemed to be knocking on their respective doors. Garnett in particular, who will turn 35 a week from today, was asked to do so much for his club, particularly when Rondo went down. After exploding for a retro 28-point, 18-rebound effort in Game 3, the fear was he'd have a tough time replicating anything close to that performance in Game 4, and sure enough, there wasn't that same bounce in his step (he finished the game having shot 1-of-10 overall from the floor). Fast forward to Game 5, when Garnett emerged as Boston's best player in the first quarter, only to wilt as the game progressed, as that initial pep in his step steadily subsided.
"I know we gave a lot in Game 3 and I never felt like we could ever get that effort back from all our guys, and the games did come quick," said Rivers after Wednesday's loss.
You can't fight your age, but perhaps that's why Rondo suggested younger players need to be brought in this summer to lessen the burden of the regular season on the team's veterans, to help keep them fresh for the real games.
3. No C's Harmony: Heading into the series, Rivers was ready to lean on his starters as much as he could, but the Celtics could never capture consistent strong performances from their Big Four. With the exception of Game 3 (for the most part), the collective efforts from the starters that were hoped for ultimately ended up being disjointed, be it Pierce's ejection in Game 1, his Achilles injury in Game 2, Allen's shooting woes in Game 2, Rondo's elbow injury in Game 3, or Garnett's 1-for-10 performance in Game 4. They were never able to all play well on the same night, which didn't bode well against James and Wade, who brought their best in nearly every game of this series.
As a result, more expectations were thrust on Boston's bench, and overall, the reserves proved to be inconsistent more than anything else. Jeff Green looked completely outmatched while trying to defend James in Games 1 and 2, only to recover fairly well over the final three games. Glen Davis was a virtual no-show, suffering through a truly dreadful postseason that hit a low point after Game 4 when he openly asked, in the third-person, where he actually was ("I've got to find Glen," he said). While usually one to embrace the pressures of the playoffs and thrive in certain situations, Davis looked dazed and confused, with only 16 semi-productive minutes in Game 5 to look back on.
The one silver lining was Delonte West, who, overall, played terrific for Boston, and was a big reason why the C's had a chance at stealing Games 4 and 5. While obviously unhappy with the result of the series, West has nothing else to hang his head over, as he did the job that was asked of him, and then some.
4. Too Much Wade and LeBron: They were tabbed as the two biggest matchup problems for Boston entering the series, and for good reason. They're two of the NBA's juggernauts -- dynamic scorers and play-makers who were firing on all cylinders for much of the second round. Wade averaged 30.2 points for the series on 52.6 percent shooting, to go along with 6.8 rebounds and 4.8 assists. His 38 points paced the Heat in Game 1, and his 34 points on Wednesday carried the Heat until the final minutes of the fourth, when he passed the torch to James for the knockout punch.
"[Wade] made it real difficult today," said Davis after Wednesday's loss. "He came through. He carried the team. He carried the team. He willed them to win, and he carried them just long enough for LeBron to knock us out."
James, meanwhile averaged 28 points and 8.2 rebounds over the five games, with three of the biggest baskets of his career coming in the final 2:10 of Wednesday's affair. His two difficult 3-pointers sank the Celtics, and his steal and breakaway layup shortly after extinguished any hope the Celtics had of rising back up. His looks were difficult, but afterwards, Rivers reminded everyone the NBA is a "make-miss league," and James made his shots count.
"No matter if your shots are good shots and their shots are bad shots, if their bad shots go in and your good shots don't, you lose the game, and that's how I felt down the stretch," Rivers said.
Greg Payne is a student intern for ESPNBoston.com