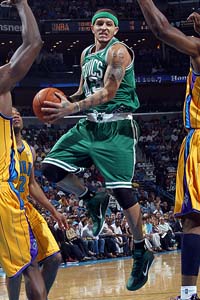 Layne Murdoch/NBAE/Getty
The C's would like Delonte West back ... but, like all free agents, they'll have to wait.The Celtics took care of their biggest offseason chore Friday, securing the services of head coach Doc Rivers by agreeing to a five-year contract extension. For the next month, they'll target the NBA Draft. But after that, well, it could be a lot of thumb twiddling.
With an uncertain labor forecast and the potential for owners to lock out their players on July 1 as the two sides continue to work towards a new collective bargaining agreement, NBA activity could cease for much of the summer.
"Well, we can't have a game plan in place today, if that's what you mean," Celtics president of basketball operations Danny Ainge said when asked about the difficulties of an uncertain summer. "But every team's in the same boat. We're just sitting and waiting for those answers. We know some possibilities, we read what you guys read and follow that and we have an owner that can keep us updated on how things are going, so you've got to be a little bit flexible."
Ainge and his front-office crew have ideas in place depending on what sort of agreement is reached and how that alters the tools at the disposal of NBA teams as far as roster building.
"When we learn what the new rules will be and we learn how much money we have to spend and what sort of things that we can and can't do, we'll be prepared," said Ainge. "We'll be preparing for lots of different scenarios, and following collective bargaining conversations, even now, hoping that nothing happens, and that we just go as is or move forward on July 1. But we'll be prepared for anything, and there's a lot of players out there that are good players, but we need to improve our team to have a crack at it next year, and we hope to be able to do that this summer."
So, let's assume the Celtics will have the same tools as their disposal this summer. What can Boston do to improve its roster? Here's a breakdown that hopefully won't be rendered obsolete by a new CBA:
PLAYERS UNDER CONTRACT
Kevin Garnett, $21.2 million
Paul Pierce, $15.3 million
Rajon Rondo, $10 million
Ray Allen, $10 million
Jermaine O'Neal, $6.2 million
Jeff Green, $5.9 million
Avery Bradley, $1.5 million
Shaquille O'Neal, $1.4 million
Total salaries: $65.8 million
First a couple of notes: Allen has a player option for the 2011-12 season, but hinted after Boston's Game 5 loss to Miami that he has no plans to go elsewhere. Shaq has a player option and it's likely his health will determine if he returns for his 20th NBA season. Green is a restricted free agent, but short of someone overpaying for his services, the Celtics will have every opportunity to bring him back (potentially for next season and beyond). Jermaine O'Neal admitted he'd take the summer to ponder his NBA future, but that's a lot of money to leave on the table and he's still merely 32 years old.
But assuming those eight players comprise the core of next year's team, Boston is already over the roughly $58 million salary cap that existed this season, meaning its hands are tied in its ability to supplement its roster.
POTENTIAL WEAPONS AVAILABLE
* Veteran minimum contracts: Teams over the salary cap can sign any free agent at a low-cost salary (with part of that amount typically picked up by the league). The Celtics used this option last year to sign the likes of Shaq, Delonte West, and Von Wafer.
* Mid-level exception: The Celtics could ink one player at the league's average salary (last year it was $5.8 million). The positive: The opportunity to add a solid player. The negative: Celtics have been riddled by the mid-level lately with Rasheed Wallace underperforming in 2009 and Jermaine O'Neal injured for much of 2010.
* Bi-annual exception: Available every other season, the Celtics could ink a player at roughly $2.18 million (or, for most veteran players, more than twice the amount of the veteran's minimum). Boston utilized this to sign Marquis Daniels before the 2009-10 season.
* Bird Rights/Early Bird Rights/Non-Bird Rights: Under the previous CBA, the NBA attempted to reward teams by allowing them to re-sign their own free agents at modest raises (typically 125 percent of their previous salaries). The Celtics appear to have Bird Rights (three years with same team) to Glen Davis and could use Non-Bird Rights to retain players like West and Nenad Krstic. This is likely a more desirable option than settling for a minimum-contract player.
* Trades/Sign-and-Trade: The Celtics could swing a deal utilizing one of their players under contract, or, re-sign someone like Davis, then flip him in order to get another commodity. Again, with their hands tied on free agents, this is the most likely avenue to adding star power.
* Rookie deals: The Celtics can ink their first-round pick (No. 25 overall) on the rookie scale (and any second-round picks at minimum deals).
Again, the caveat here is that the new CBA could blow a lot of these options up (or at least alter them). Boston's worse fear has to be a hard salary cap, which wouldn't allow them the flexibility to spend more than others (ownership footing a steep luxury tax bill to be ultra-competitive). But the Celtics' game plan entering the offseason is likely to examine players within these parameters, then audible as necessary.