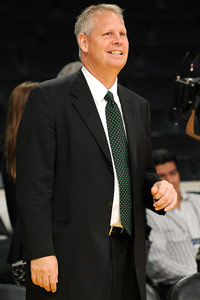 Noah Graham/NBAE/Getty Images
Even after his team's playoff exit, Danny Ainge thinks Boston should have been up against the Heat.The Celtics are no longer competing in the 2011 NBA playoffs after falling in five games to the Miami Heat in the Eastern Conference semifinals, but Celtics president of basketball operations Danny Ainge suggested on Friday that he didn't think that should have been the case.
Two days after a hopeful season ended with a disappointing second-round playoff exit, Ainge said that rather than hitting the road for sandy beaches, his team should have still been playing, and with a 3-2 series lead over Miami, no less.
The Celtics were rattled by injuries to key players like point guard Rajon Rondo and center Shaquille O'Neal (who ended up playing a total of 12 minutes in the postseason), but beyond that, Ainge felt as though they underachieved as a result of not playing to the level they were capable of.
"That's the hardest thing about this is that, I think we're a better team than we played, and not taking anything away from Miami, who I think is an excellent team, but I felt like we should be up 3-2, instead of being going home, and that was challenging," Ainge said.
The idea of the Celtics snatching the series lead away from the Heat isn't inconceivable. After two poor outings in Miami that thrust them into an 0-2 series hole, the Celtics came out swinging and captured Game 3, and if not for some very uncharacteristic late-game blunders in Game 4 and a not-as-surprising offensive drought in the final minutes of Game 5, Boston would have forced a Friday night Game 6 and the chance to advance to the Eastern Conference Finals.
"I thought we should have been ahead in the series, 3-2," Ainge reiterated. "I just really thought Game 4 and Game 5 were there for our taking, and it's always hard to lose those games. I did not think we played well in Game 1 and Game 2, and I think that you've got to give credit to Miami. And also, the fact that we lost games down the stretch [in the regular season], [lost] home court. That hurt us. Last year we got away with it. This year, we didn't, and I think that hurt us as well."
The reasons for the Celtics' early exit are scattered, and while Ainge harbors explanations of his own, he wasn't willing to disclose them.
"I won't share those with you, because that would be talking about some of my players that didn't play as well as they were capable of playing," said Ainge.
But when you examine the regular rotation head coach Doc Rivers went with for much of the series, it's not exactly difficult to find the players who didn't meet expectations. Glen Davis in particular gave Boston next to nothing against the Heat, aside from 16 semi-productive minutes in Game 5. Davis was the team's fourth leading scorer in the regular season, but it was his usual energy that the Celtics might have missed most, particularly in the opening two games in Miami.
While the reasons Davis didn't play well are still unclear, it appeared general fatigue limited Kevin Garnett for much of Games 4 and 5, after he exploded for 28 points and 18 rebounds in what was a must-win Game 3 at home. The Celtics were banking on Garnett winning his matchup with Chris Bosh, but he shot just 1-of-10 from the field for seven points in Game 4, and finished with 15 points and 11 rebounds after a hot start in Game 5. But the blame cannot be placed on Garnett's shoulders alone -- something Ainge was quick to point out.
"[Garnett's] the leader of our defense, and I thought that he was unbelievable, obviously, in Game 3, and then Game 4 and Game 5, he wasn't the same offensively, but he had good spurts," Ainge said. "But that's going to happen. KG's not expected to have to carry us, but it would be nice if he would score 28 points every night, but we don't expect that out of KG. We just didn't get a lift from anyone else, either, offensively. And in spite of the 1-for-10 [in Game 4], maybe if we make a lay-in, a free throw, get a rebound, we still win the game. So we're able to win, even if KG doesn't play great."
As for other reasons why the Celtics stumbled, injuries need to be given their due. It's safe to say the Celtics would have played better had Rondo had two working arms for Games 4 and 5, and if they had had a healthy Shaq for the entire series. During the regular season, the Celtics posted a 19-3 record when Shaq started and played at least 20 minutes, registering superb numbers on both sides of the ball. It was a statistic that most likely gave Ainge a sense of comfort when he pulled the trigger on the trade that sent Kendrick Perkins to the Oklahoma City Thunder (despite the fact that Shaq was injured at the time and was on the verge of turning 39-years old).
On Friday Ainge admitted the Celtics maybe "should have taken [Shaq's] age into more consideration," but he wasn't willing to point to the widely criticized trade as the reason why the Celtics were bounced from the postseason.
"I don't think we played as well as we were capable of playing, but in my opinion, it's not because we didn't have someone setting screens, because we did have some people setting screens. It's not because of our interior defense," Ainge said, referencing the scrutinized trade without actually mentioning Perkins' name. "I think it had a lot more to do with our ability to score down the stretch of games. And we thought we improved that by making the trade."
Reasons for the Celtics' season coming to a premature end -- and Ainge's frustrations over them -- aside, the reality is what it is. All Ainge can do now is remodel his club as best he can in what will be an interesting and somewhat uncertain summer -- given the possibility of a lockout -- in an effort to come back stronger next season and finish with champagne and another championship banner, rather than cloudy explanations for a second-round send-off.
Greg Payne is a student intern for ESPNBoston.com