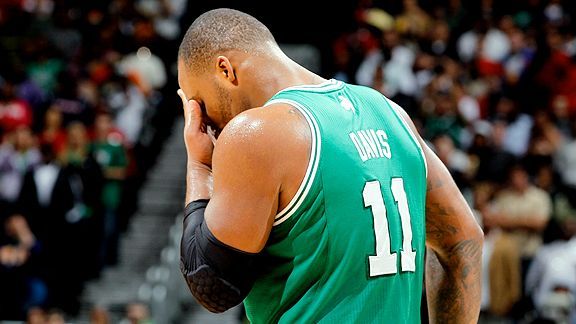 Kevin C. Cox/Getty Images
The 2010-11 season featured a brilliant start and forgettable finish for Glen Davis.Over the next few weeks, we'll take a player-by-player look at the Celtics' 2010-11 roster and how each player's season unfolded, assigning a grade for their overall performance. This is the first in the series of report cards:
Player: Glen Davis
2010-11 averages: 11.7 points, 5.4 rebounds, 1.2 assists
2010-11 salary: $3 million
Season in a paragraph: On Media Day, he moaned about not having a defined role, but Davis emerged as the most important Celtics big man not nicknamed KG. In a season in which Boston couldn't keep a center healthy, Davis logged more court time with Boston's Big Four than any other player and was essentially a glorified starter playing a career-high 29.5 minutes per night. For the first half of the season, he was a candidate for Sixth Man of the Year, logging most of his league-leading 46 charges before the All-Star break. Physically and mentally he seemed bogged down by year's end, the affects of heightened minutes and looming free-agent status forcing him to abandon what had made him so successful earlier in the year.
Season highlight: Davis peaked out of the gates, opening the season with a 12-game charge streak, while also producing double digits in scoring in Boston's first six games. On opening night against the Miami Heat, he absorbed charges from both LeBron James and Dwyane Wade, while chipping in 13 points on 6-of-7 shooting over 29 minutes. It's exactly what the Celtics needed from Davis and it was exactly what was missing when the same teams met in the Eastern Conference semifinals at season's end.
Season lowlight: A late-season slump lingered straight into the postseason, where Davis averaged a mere 4.9 points and 3.6 rebounds over 21.2 minutes per game (this after averaging 7.3 points and 4.5 rebounds in a lesser role a year earlier). Davis' player efficiency rating (a measure of per-minute production where the league average is 15) was a gruesome 5.3 for the postseason (down from 12.8 in the regular season). After a Game 4 loss to Miami earlier this month, Davis sighed: "I've been nowhere to be found this whole playoffs. I need to find myself... I've got to find Glen."
Final grade: B-
Teacher's notes: Unfortunately for Davis, we'll remember the end more vividly than the start. At midterm, he was a B+ student, but his shot selection was growing increasingly criticized and he did little to alleviate that the rest of the way. Coach Doc Rivers often noted how Davis got away from being an energy player focused on charges and offensive rebounds, and became overly concerned about scoring points. It's unfortunate, but THIS play might ultimately be the most memorable of the year for Big Baby.
What's next?: Davis is an unrestricted free agent and the Celtics will allow the market to dictate whether they bring him back. Davis already suggested he wants to be a starter and that's unlikely to happen next year in Boston, but that won't stop the Celtics from bringing him back at the right price. Davis offers so much potential, but mental roadblocks continue to stem his development into the player he thinks -- and often shows -- he can be. A change of scenery might do Davis good, but he'll likely look back and realize Rivers' tough love only aided his early development. There's a larger role for Davis in Boston down the road, but only if he can stop over-thinking his play. (What's your take? Vote in our SportsNation poll about Davis' future).
Don't agree with teacher? Just want to sound off on Davis' 2010-11 season? Click HERE to leave a comment.