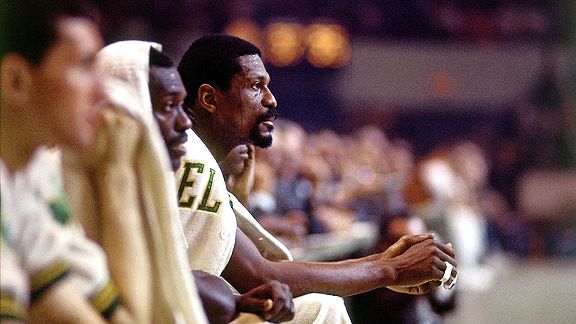 Dick Raphael/NBAE via Getty Images
Bill Russell was honored Tuesday for his contributions to mentoring. Celtics legend Bill Russell was awarded the Lifetime Achievement Champion of Mentoring Award by the Mass Mentoring Partnership at Fenway Park on Tuesday. The Mass Mentoring Partnership will join forces with the newly created Bill Russell Legacy Foundation to establish the Bill Russell Mentoring Grant Program, which will award grants annually to local non-profit organizations that will seek to increase the number of children who have access to quality and structured adult mentoring programs.
In addition to the grant program, a statue of Russell will be erected in a yet-to-be-determined location in Boston.
Speaking at a small engagement prior to the award ceremony that included the Mayor Thomas Menino, Celtics co-owner Steve Pagliuca, and fellow Celtics legend Tommy Heinsohn, Russell said the statue's true significance is its relationship to the mentoring program.
"Well, [the statue] makes me a little uneasy, because it seems almost like a tombstone," Russell joked. "I don't want to engrave my tombstone yet, but it's tied in with the mentoring program and there's very little that I would not do for the mentoring program."
Said Mayor Menino: "That's why we want to have a statue as part of his mentoring program, because I've known Bill for many years and mentoring was always an important part of his life, not just because the statue is here today. But I've known him for a lot of years, and he's always one to say, 'What's happening with the kids? How are we mentoring those kids?' and that's what Bill Russell's all about."
The design of the statue is still being determined by the Bill Russell Legacy Committee, which includes Heinsohn, who will lend a hand in determining what the statue will look like. When asked what he would prefer to see the statue look like, Russell admitted he didn't know.
"I'm one of those guys that, I can wait and see," Russell said, choosing instead to keep the focus on educating the children of the future.
"I once said in a speech I made in Texas -- it was right as the Vietnam War was winding down -- I said that we should take those funds and dedicate it to our educational system," Russell said. "And after the speech a guy said to me, 'You know, you're talking about spending a lot of money, and as a taxpayer, I don't think I should have to pay taxes to educate other peoples' kids.' And I said, 'Sir, there are two reasons you should do this. One, when you were 6 years old and your folks sent you off to a school, there was a school there for you to go to. And second, there are no other peoples' children in the United States of America. That's the next generation of Americans.' And so, in my post-athletic career, I've done everything I could to further education, and if this will be something that will help, I'm all for it."
Russell's daughter, Karen, attended the ceremony, and reiterated her father's focus on education.
"I'm very proud of my father and proud of this group of people and his dear friend the mayor, and I agree with my dad, as long as it's something that helps further mentoring and helps children and education, we're all for it," Ms. Russell said of her father being honored with a statue.
While there have been questions in recent weeks as to why it took until 2011 for a statue to be constructed, Russell and his daughter both dismissed the idea of the project being overdue.
"It happened at the right time," Ms. Russell said.
Pagliuca expressed the pride the Celtics organization feels towards Russell and his many achievements.
"Bill was the ultimate team player, not only on the court, but off the court as he said of the community efforts, and we're very proud at the Celtics," Pagliuca said. "We try to continue on the tradition. I think it's very appropriate now that we get the mentoring programs going and continue his work and the statue is well-deserved, so we're very excited about this development."
Russell played for the Celtics from 1956-1969, winning 11 championships in his 13 seasons, while also serving as a prominent civil rights activist.
"When [Russell] was playing basketball he was our leader, he was a champion, with [Tommy] Heinsohn," said Mayor Menino. "But also, he broke down the barriers in our city, which was so important, because when he played in Boston, it was a little different city than it is today.
"I think in 2011, it's another way of recognizing a guy, like I said, who broke down barriers. When Bill played here it was a different city than it is today, and Bill was out there working hard to make this city work, and for folks who were left behind. And that's why I'm so enthused about this. It took a little bit longer than we expected, but we're all here making it happen now."
Added Heinsohn: "[It was a] very difficult time in the city's history, and Russell proved that he was his own person, which was very difficult to do in those days. And he stood tall and he represented a great organization and I think through him, it taught the city teamwork, how people could get along."
While Russell's importance to the history of Boston speaks for itself, he took a moment to touch on what the city of Boston has meant to him.
"Well you know, a lot of people think that I had a lot to put up with a lot of things," Russell explained. "I never once felt I was putting up with anything. I was having the time of my life. Basically, off the court, I was always community driven, and to be able to get some things done, community-wise, was always a plus. So, the city of Boston was interesting."
Greg Payne is a student intern for ESPNBoston.com