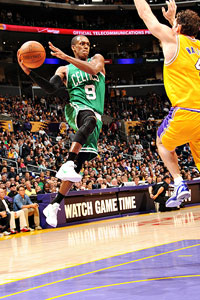 Andrew D. Bernstein/NBAE/Getty
Rajon Rondo looks to dish during a visit to Los Angeles.Rajon Rondo finished the 2010-2011 regular season ranked second in the league in assists per game (11.2), behind only Suns' point guard and two-time MVP Steve Nash (11.4).
But at the commencement of the most recent campaign, Rondo was an assist machine, rifling out dimes at a record pace, furthering himself as a candidate in the ongoing "Who's the NBA's best point guard?" debate and making us all wonder if he might actually be the one to top John Stockton's single-season assist record.
While folks might reflect on the 2010-2011 season and remember Rondo's sudden drop-off in production towards the end of the regular season or the dislocated elbow he suffered in Game 3 against the Miami Heat, let's not forget how dominant he was through the first four months of the season. Here are five games that help to illustrate just how impressive the Celtics' All-Star point guard was at the outset of the season:
October 26: Celtics 88, Heat 80 -- 17 assists
Rondo was quiet in the scoring column in the Celtics' first game of the year (four points on 2-of-9 shooting), but he was moving the ball around at a relentless rate, creating easier looks for the likes of Shaquille O'Neal, Paul Pierce, and Ray Allen. Rondo exceeded 17 assists only two times during the 2009-10 season, so it hadn't quite registered that this was something Rondo was ready to do on a regular basis. At the time it was simply a superb effort in what was arguably the most anticipated opening game in NBA history. In fact, Rondo came back the very next night against the Cleveland Cavaliers and registered just nine assists (far closer to his average of 9.8 assists per game from the previous season) and the Celtics lost. But then came ...
October 29: Celtics 105, Knicks 101 -- 24 assists
Fresh off what would later be categorized as a pedestrian nine-assist performance, Rondo nearly tallied his assist total from the first two games of the season by posting a career-high 24 assists against the New York Knicks, to go along with 10 points and 10 rebounds. His 24 helpers marked the second-most in Celtics history, behind the 28 that legend Bob Cousy posted back in 1959 against the Minneapolis Lakers. To give you an idea of how impactful Rondo was on his teammates' scoring that night, Kevin Garnett and Glen Davis combined for 19 made field goals, and Rondo assisted on 14 of them. Which leads us to ...
Nov. 2: Celtics 109, Pistons 86 -- 17 assists
The Celtics won their fourth game of the season by blowing out the Pistons at home, and when Rondo finished with 17 assists, his nine-assist effort against the Cavaliers two games earlier was looking more and more like an exception as opposed to a constant. Rondo was setting some lofty standards for himself by notching 17 or more assists in three of his first four games. People were starting to throw the word "consistency" around, but Rondo was flirting with statistics that hadn't been seen from an NBA point guard in more than 20 years. But consistency is exactly what Rondo was on the verge of delivering. His 17 assists against the Pistons marked the start of an eight-game stretch in which he recorded 10 or more assists. In six of those eight games Rondo notched 13 or more assists and in four of them he handed out at least 15. And during that eight-game stretch, Rondo made history, which directs us to ...
Nov. 3: Celtics 105, Bucks 102 -- 15 assists
Rondo finished with 17 points and 15 assists as the Celtics vanquished the Bucks in overtime, but his own historical milestone was (rightfully) overshadowed somewhat by Paul Pierce scoring his 20,000th career-point. The spotlight was eventually shifted back onto Rondo, though, when it became clear just how impressive his assist totals were. His 15 against the Bucks gave him 82 total assists through the first five games of the season, good for the most to start a season in NBA history, moving him past Magic Johnson and John Stockton, who each recorded 81 assists through the first five games in the 1988-89 season and 1989-90 season, respectively. But in addition to making NBA history, Rondo etched himself in the Celtics' record book, as his 82 assists through the first five games marked the most assists any Celtics player recorded during any five game stretch ever.
Jan. 5: Celtics 105, Spurs 103 -- 23 assists
After missing a handful of games due to injury, Rondo was back on the edge of Celtics history once again, as he tallied assist after assist in the Celtics' win over the Spurs without Kevin Garnett in the lineup. Rondo finished with 12 points, 10 rebounds, and 6 steals to go along with his 23 dimes -- just one shy of the career-high he set back in October. But as impressive as this outing was, it also marked the last time Rondo recorded 17 or more assists during the regular season. The 13- to 16-assist outings were becoming more scattered and perhaps due to injury, or the unavoidable fatigue that sets in over the course of the 82-game slate, Rondo eventually fell into a slump, part of which was an eight-game stretch in March where he didn't hit double-digits in assists a single time.
Maybe it's not surprising, then, that a number of important Celtic players saw their production fall off towards the end of the season as well. Whether it was Rondo, Glen Davis, or Shaquille O'Neal, it's natural for folks to remember most vividly what happened most recently (the whole "What have you done for me lately?" theme). But let's not forget the force of nature that was Rajon Rondo to start the season.
Greg Payne is a student intern for ESPNBoston.com