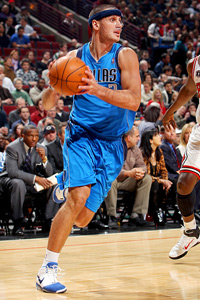 Gary Dineen/NBAE/Getty
Sasha Pavlovic played 10 games for the Mavericks this season.The Dallas Mavericks secured their place in the NBA Finals Wednesday evening by eliminating the Oklahoma City Thunder and the Miami Heat can do the same on Thursday night with a win over the Chicago Bulls. Which, only naturally, probably has a few guys who spent the year in green wondering if they might still be playing if things had played out a little differently.
Start with Celtics center Jermaine O'Neal, who last summer narrowed his three finalists to Boston, Dallas, and Denver. It was the Celtics' offer of their full mid-level exception that helped lure O'Neal to Boston. Which is a bit ironic because the Mavericks never used their own mid-level exception during the offseason and, when Corey Brewer landed on the buyout scrapheap, it was that exception that allowed them to outbid the likes of Boston to obtain his services for the final stretch of the season.
Which might have also played a part in Sasha Pavlovic landing in Boston. Pavlovic had signed two 10-day contracts with the Mavericks back in January, appearing in 10 games, but the team never committed to signing him for the rest of the season. Reports indicated that Pavlovic was on Dallas' radar if they couldn't obtain Brewer. Instead, it was the Celtics inking Pavlovic almost immediately after Brewer made his decision to go to the Mavericks.
Both Troy Murphy and Carlos Arroyo have to be watching the Heat while wondering what could have been. After being traded to, and then released by, the Golden State Warriors in February, Murphy had his choice of suitors and it was the Celtics and Heat that engaged in a tug-of-war with Boston ultimately prevailing. Previously, Miami jettisoned Arroyo with the opportunity to ink Mike Bibby, this after Arroyo had fallen out of favor despite starting 42 games with the Heat this season.