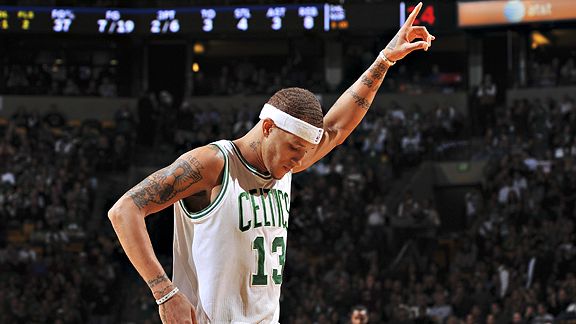 Brian Babineau/NBAE/Getty Images
After battling injuries, Delonte West saved his finest play for Boston's final games.Over the next few weeks, we'll take a player-by-player look at the Celtics' 2010-11 roster and how each player's season unfolded, assigning a grade for their overall performance. This is the ninth in the series of report cards:
Player: Delonte West
2010-11 averages: 5.6 points, 2.7 assists, 1.5 rebounds
2010-11 salary: $854,389
Season in a paragraph: To label West's season as frustrating might be an understatement. After dealing with legal woes over the summer, West inked a veteran-minimum deal with Boston and knew he'd have to sit out the first 10 games of the season due to a league suspension from his off-the-court troubles. In his fifth game back, West fractured his right wrist on a strong drive to the basket and missed the next 39 games before returning in mid-February. Three games later, he chipped a bone in his right ankle during an offday walkthrough with some of the team's midseason acquisitions. West appeared in 16 of Boston's final 17 regular-season games (sitting out the season finale) and, finally able to find a rhythm, produced his best play against Miami in an Eastern Conference semifinal series.
Season highlight: West got showered with support by the Garden faithful while checking into his first game of the season on Nov. 17 against the Wizards, then chipped in a season high 12 points to go along with five rebounds and four assists over 21 minutes in a lopsided win. Honorable mention: West averaged 10.2 points per game in five solid postseason efforts against the Heat.
Season lowlight: By season's end, West said he was done talking about injuries (even as he fought through swelling in his ankle and a left shoulder injury sustained in the Heat series). Limited to 24 games during the regular season, West had so many starts and stops and the toughest part might have simply been trying to stay positive in the face of so many roadblocks.
Final grade: B
Teacher's notes: The final of 11 offseason signings by the Celtics, West was the steady backup ball-handler that Boston so desperately craved in recent seasons. Alas, the injuries limited his ability to help the second unit over the first six months of the season and, by the time he was healthy, the second unit had been completely overhauled. West did a good job facilitating the offense, his assists per 36 minutes (5.1) rivaling the best mark of his career (5.4 in 2007-08). But it wasn't until the Miami series that we saw what West was truly capable of contributing on a consistent basis.
What's next?: West is an unrestricted free agent again and it will be interesting to see if he draws increased interest outside of Boston this offseason (last summer, the Celtics were one of the few teams willing to consider him given his off-the-court troubles). Celtics president of basketball operations Danny Ainge confirmed the team is interested in bringing West back, but they'll need to do it cheaply (another minimum deal, or a slight bump potentially utilizing non-Bird rights, depending on how the new collective bargaining agreement looks). A healthy West would have gone a long way towards limiting the wear and tear on Rajon Rondo this past regular season ... so long as West can stay healthy.
Honor roll: Click HERE to read past report cards.
Don't agree with teacher? Just want to sound off on West's 2010-11 season? Leave your thoughts in the comments section.