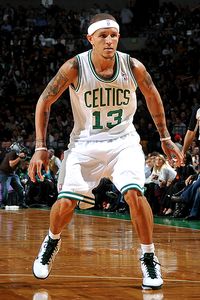 Brian Babineau/NBAE/Getty
Delonte West battled injuries, but had memorable moments.After being dealt to the Seattle Supersonics in the deal that brought Ray Allen to Boston back in 2007, Delonte West spent three seasons with other teams before making his way back to the Celtics. Signed to a one-year, veteran's minimum contract last September, West was welcomed back by fans, former teammates, and coaches alike.
The 2010-11 season, though, didn't exactly unfold the way he had planned. He was suspended the first 10 games of the season by the NBA for pleading guilty to weapons charges last summer, and he was forced out of the lineup again (for the majority of the season) with a right wrist fracture and a chipped bone in his right ankle. But after staggering through the first round of the playoffs against the New York Knicks, West found his groove against the Miami Heat and did all he could to keep the Celtics fighting against LeBron James, Dwyane Wade, and co.
Here's a look back at five memorable dates from West's season:
November 17: Regular-season debut (12 points, 5 rebounds, 4 assists)
The NBA suspended West for the first 10 games of the regular season, but not the preseason, which gave Celtics loyalists a taste of the impact West was capable of making for Boston. So when West was finally able to take the court again against the Washington Wizards in mid-November, he was met with a warm ovation when he checked in for the first time, and rewarded fans with a 12-point, 5-rebound, 4-assist effort, helping the C's demolish the Wizards for their seventh consecutive victory. He helped to orchestrate a second-unit that included the likes of Glen Davis, Nate Robinson, and Marquis Daniels in the fourth quarter, as the reserves pushed the lead to as many as 37 at one point. Ten of West's 12 points came in the fourth quarter.
November 24: West breaks right wrist against Nets
It was one of the more unsettling moments of the regular season, watching West break out in transition, cut from the right to left side of the floor and go up for a strong left-handed layup. He made the bucket, but was fouled by Travis Outlaw and fell to the ground backward, landing hard on his right wrist, which broke on impact. West let out a very audible yell of pain and he immediately cradled his right arm to his chest as Celtics trainer Ed Lacerte rushed to his side. After another gasp of pain, West was eventually helped to the locker room and would miss the next 39 games.
December 2010 to February 2011: The recovery process
West knew he was in for a lengthy recovery stint, but in typical Delonte fashion, he attacked it head on. First it was a matter of being able to support a basketball with his right hand. A few weeks after that he was allowed to catch passes and dribble a ball, and eventually he was back to going through dribbling and shooting drills with various assistant coaches. West's commitment could never be questioned, as, on nearly an everyday basis, he was the last Celtic player to leave the practice floor. Long after his teammates had left for the weight room or the showers, West was still rifling jumpers at the rim or working on spin moves with an assistant coach or ball boy acting as a mock defender. Along the way, West revealed some slightly unusual training techniques, such as his sudden interest in Kung Fu videos on YouTube (in an effort to study people who fall routinely) and his wrist exercises with a bucket of rice.
Feb. 22 & March 16: West returns to action
After months of rehab, West was able to return to action in late February against the Golden State Warriors in the first game of a four-game west coast road trip for Boston. The return, however, was short-lived as after his third game back he suffered what was initially deemed a sprained right ankle (it was later revealed he suffered a chipped bone in that ankle) during an informal workout. West stayed on the inactive list for eight games, before returning again in mid-March against the Indiana Pacers. While it took several games for West to find his stride again, he did manage to come up with this devastating block on Indiana's Paul George during his first game back from his ankle woes.
May 2011: West thrives against Heat
While a slew of Celtics struggled against the Miami Heat, West produced perhaps his finest five-game stretch of the entire season. Against the Heat, West came off the bench and averaged 10.2 points on 52.8 percent shooting from the field and 46.7 percent from 3-point nation. After playing somewhat hesitant in limited minutes in the previous round against the New York Knicks, West was back to being his aggressive self, attacking the rim, playing physical defense on Dwyane Wade, and hitting timely shots. His biggest bucket of the postseason came in Game 4 against the Heat in Boston, as he took a Paul Pierce pass in the left corner with three minutes to play, rose up, and knocked down a pivotal 3-pointer that tied the game at 81 (Boston ultimately lost in overtime, however).
In spite of his injury-plagued season, West was once again able to prove he's more than capable of being a consistent and reliable contributor on a team with championship aspirations. West could serve as a solid foundation piece for future Celtics teams as Boston begins its shift out of this current "Big Three" era, and general manager Danny Ainge recently confirmed that the team is interested in re-signing him this summer.
Greg Payne is a student intern for ESPNBoston.com