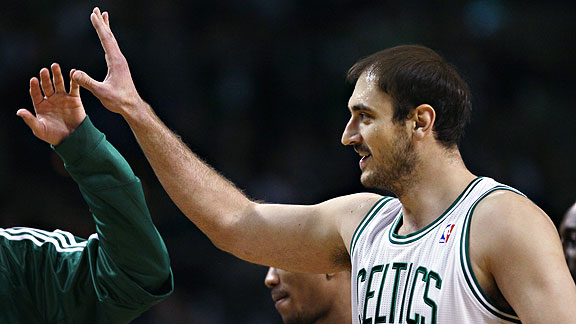 Elsa/Getty Images
Nenad Krstic enjoyed a honeymoon period, but injuries and reduced playing time worked against him.Over the next few weeks, we'll take a player-by-player look at the Celtics' 2010-11 roster and how each player's season unfolded, assigning a grade for their overall performance. This is the 10th in the series of report cards:
Player: Nenad Krstic
2010-11 averages: 9.1 points, 5.3 rebounds (Boston); 8.1 points, 4.7 rebounds (overall)
2010-11 salary: $5.5 million
Season in a paragraph: The 'other guy' in a swap that brought Jeff Green (and a future first-round pick) to Boston in exchange for Kendrick Perkins and Nate Robinson, Krstic soon left us joking that he was actually the primary acquisition given his inspired play after joining the Celtics. Krstic's 24-game Boston tenure was highlighted by a spectacular eight-game stretch to start the month of March (he reached double figures in scoring seven times and produced two double-doubles). Alas, his confidence soon eroded, he suffered a knee bruise in late March (and another in practice shortly after), and the return of Jermaine O'Neal (and, to a smaller degree, Shaquille O'Neal) left him unable to get off the bench at times during the postseason.
Season highlight: Krstic earned an Eastern Conference Player of the Week nomination after a brilliant three-game stretch in early March. He registered 17 points on 7-of-10 shooting with 9 rebounds over 38 minutes on March 9 vs. the Clippers; 16 points on 6-of-15 shooting with 15 rebounds over 34 minutes on March 11 vs. the 76ers; and 11 points on 5-of-8 shooting with 14 rebounds over 27 minutes vs. the Bucks on March 13. In his first eight appearances for Boston, Krstic reached double figures in all but his debut and averaged 14.7 points and 8.5 rebounds over 29.2 minutes per game, while shooting 57.1 percent from the floor.
Season lowlight: By mid-March, Krstic had started to over-think the game (and Boston's playbook) a bit and drew the ire of coach Doc Rivers when he couldn't move past simple mistakes (like a missed defensive rotation). Krstic suffered a right knee bruise in San Antonio on March 31 -- the same night Jermaine O'Neal returned to action -- and a left knee bruise suffered in practice soon after didn't aid his cause. Krstic averaged a mere 1.7 points and 1.7 rebounds over 8 minutes per game in the postseason, earning two DNP's during the Miami series when Shaq was activated.
Final grade: C+
Teacher's notes: If Krstic had maintained his initial level of play, it would have been interesting to see if the Perkins trade was as much of a topic as it was by season's end. The fact that both Krstic and Green made little impact during Boston's late-season struggles simply thrust the deal under the microscope that much more. As for Krstic, he earned the sixth highest salary on the team, the most of any non-playoff starter, and his own struggles late in the season dragged his grade down despite the fantastic start. Krstic never quite acclimated to the reserve role, though he showed potential to succeed there in Game 5 of an Eastern Conference semifinal series against the Heat, chipping in 8 points, 2 rebounds, and 2 blocks over 15:36.
What's next?: Krstic is an unrestricted free agent, but Celtics president of basketball operations Danny Ainge has expressed an interest in retaining his services. Barring an overhaul in how teams can retain their own free agents in the new collective bargaining agreement, Boston should have a chance to bring back Krstic, but it's going to be pricey given his already elevated salary. If the team is willing to absorb that price tag (and Krstic is willing to play on a short-term deal), it would offer the Celtics a player with far more potential than what they'd find otherwise for a veteran minimum contract. A summer to dive into the playbook would seemingly help Krstic (alas, we said the same about Robinson and he never found a way to flourish in a bench role). Here's the key for Boston: Is the team confident Jermaine O'Neal can endure the rigors of an 82-game season (or however many games a potential lockout limits the 2011-12 campaign to)? Krstic showed he can thrive as a starter here and might just find himself in that role at times next season.
Honor roll: Click HERE to read past report cards.
Don't agree with teacher? Just want to sound off on Krstic's 2010-11 season? Leave your thoughts in the comments section.