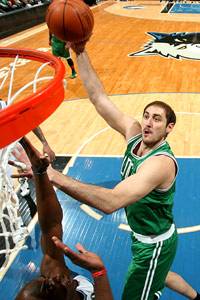 David Sherman/NBAE/Getty
Nenad Krstic started stronger than he finished in Boston.He might have spent the majority of the playoffs watching from the bench, but Nenad Krstic ultimately did enough during his first go-around in a Celtics uniform to warrant another look from the club this summer. Celtics president of basketball operations Danny Ainge confirmed recently that the team has interest in re-signing Krstic, who was brought over from the Oklahoma City Thunder in the Kendrick Perkins trade back in February.
But why potentially invest money in a player that head coach Doc Rivers wasn't willing to rely on during the most important part of the season? To answer that question, Krstic's entire body of work needs to be examined. Several factors contributed to Krstic's diminished role in the postseason, many of which were out of his control.
First, like many of his teammates (and maybe the Celtics as a whole), Krstic fell into a bit of a slump towards the end of March, and then suffered a bone bruise in his right knee late in the first half of the Celtics' 107-97 victory over the San Antonio Spurs on March 31. Coincidentally, Jermaine O'Neal returned to the lineup that very same game, after missing several weeks while he rehabbed his surgically repaired left knee. O'Neal began playing well and shortly after he was able to play again, Krstic suffered another bone bruise in the opposite knee in practice. His slump, the knee injuries, and O'Neal's return all factored into Krstic earning meager minutes in the postseason.
He eventually got an extended look in the Eastern Conference semifinals against the Miami Heat, playing 16 minutes in Game 5 and contributing 8 points on 3-of-3 shooting to go along with 2 rebounds. He buried a jump shot to put the Celtics ahead by six with just over four minutes to play -- Boston's final basket of the 2010-11 season -- and his performance was so impactful that many were left wondering why Rivers hadn't played him more minutes in the midst of Glen Davis suffering through a truly dismal round against the Heat. Rivers would later admit he was continuing to play Davis in an effort to re-establish his confidence -- a decision that further limited Krstic's opportunities to produce in the playoffs.
It's performances like those in Game 5, though, that should give the Celtics confidence in Krstic's future, and in the initial weeks he served in a Boston uniform, Krstic put forth many of them. Ainge and Co. won't forget how successful Krstic was when he first arrived in Boston, beginning with his very first game when he grabbed six offensive rebounds in a win over the Los Angeles Clippers. Shortly after that performance, Krstic went on a roll, putting forth his best five-game effort of the season early in March:
* March 4 vs. Warriors: 11 points on 3-of-5 shooting, 6 rebounds, 26 minutes
* March 6 at Bucks: 17 points on 7-of-8 shooting, 3 rebounds, 29 minutes
* March 9 vs. Clippers: 20 points on 7-of-10 shooting, 9 rebounds, 38 minutes
* March 11 at 76ers: 16 points on 6-of-15 shooting, 15 rebounds, 34 minutes
* March 13 vs. Bucks: 11 points on 5-of-8 shooting, 14 rebounds, 27 minutes
Five-game average: 15 points, 60.8 percent shooting, 9.4 rebounds, 30.8 minutes
Krstic's 20 points against the Clippers served as a season-high, and 12 of them came in the fourth quarter, as the Celtics fought back from the 10-point deficit they faced entering the final frame, before ultimately losing in the final minutes. Krstic's rebounding totals against the 76ers and Bucks in back-to-back games were his two highest rebounding totals of the season, and marked the only time Krstic secured double-digit rebounds in consecutive games.
Krstic was so effective during this stretch that he was nominated for Eastern Conference Player of the Week for his performances from March 7-13. While the award eventually went to Dwyane Wade of the Heat, Krstic was, at the time, able to cement himself as a legitimate contributor for the new-look Celtics.
The consistency of Krstic's performances over this stretch was what was most encouraging and it will go down as enough to warrant continued interest from Boston. He was playing with a steady confidence that eventually dwindled as injuries set in and limited his production towards the end of the season. If the Celtics do agree to a new deal with Krstic in the coming months, they'll be looking for the player who wasn't afraid to bang inside, fight for rebounds, and block the occasional shot, as opposed to the one who played timid and was constantly over-thinking things on the floor.
Given the uncertain futures of both Shaquille and Jermaine O'Neal, as well as Davis, who's also an unrestricted free agent, bringing Krstic back would help to bolster a front line that needs to be revamped. While Krstic might not provide the coveted youth and athleticism the C's are looking for up front, he's proven he can contribute as both a starter and a reserve, even in the postseason, if given the chance.
Greg Payne is a student intern for ESPNBoston.com