Our tag-team partners over at the Patriots Blog have a nice little series going on dubbed Sudden Impact, examining potential free agents that could have an immediate affect if lured to New England when NFL play resumes. What we love most is the simplicity as the entries are springboards to quality conversation in the comments with readers offering pros and cons to each player/position addressed.
Since we're likely in for a long summer (and fall? and winter?) before the NBA hammers out its own collective bargaining agreement and ends this lockout, we're starting our own summer series dubbed Good in Green, where we'll examine one free agent (or a player potentially available via trade) each day and let you sound off on whether it makes sense for Boston or not (In a way, we've done that already this week with spotlights on the Clippers restricted free agent center DeAndre Jordan and Suns swingman Mickael Pietrus). Today's target: forward/center Chuck Hayes.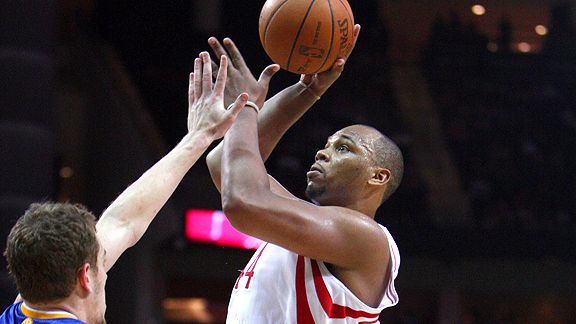 Thomas Campbell/US Presswire
He's undersized, but Chuck Hayes held his own at the center spot in Houston.The skinny: At 6-foot-6, 240 pounds, Hayes is hardly your typical NBA center. But nothing about Hayes is particularly conventional. Undrafted out of the University of Kentucky in 2005, he latched on with the Houston Rockets as a free agent, but was cut before the season. He landed with the Albuquerque Thunderbirds and led the NBA D-League in rebounding before injuries re-opened doors for him with Houston. Hayes then inked an incentive-heavy, four-year deal in August of 2007.
2010-11 season: Hayes averaged 7.9 points, 8.1 rebounds, and 2.7 rebounds over 28.1 minutes per game in a bit of a breakout year. He started 63 games in 74 appearances. Hayes earned approximately $2 million.
Why it makes sense: The Celtics are in need of some big men and while a 6-foot-6 center doesn't exactly fit the prototype, Hayes showed he can hold his own at the 5. In a way, Hayes is the anti-Glen Davis. He doesn't shoot much (career-high 6.3 shots per game last season, but connected on 52.7 percent overall) and he's a vacuum around the glass. Hayes still ranked 10th in the league with a glossy 120 offensive rating (by comparison, Nenad Krstic was Boston's top offensive rating at 117 last season). What's more, Hayes' defensive rebounding percentage was 20.7 percent -- top 30 in the NBA -- and that was actually a career low. He was tied for eighth (with Jordan) in offensive rebounding percentage (11.9 percent) and was 18th in total rebound percentage (16.3; by comparison, Kevin Garnett topped Boston at 17.5 percent). And here, courtesy of Basketball-Reference.com, is a handy chart looking at Boston's top defensive rebounding rates from last season. Note that six of the top eight players are not expected back with the Celtics ...
Why it doesn't make sense: The Celtics are chock full of potential 4's, including Davis if the team is able (willing?) to re-sign him this offseason. Add in Jeff Green, Kevin Garnett, and JaJuan Johnson, and there's not a lot of minutes at the power forward spot (meaning Hayes would continue to play at a spot where he gives up considerable size). The Celtics might simply need size over production to bolster that front line, so finding the nearest 7-footer that comes cheap might make more sense (particularly if they have a desire to ink a big-ticket center with their impending cap flexibility after the 2011-12 season). Plus, depending on what Houston is willing to pay and the value of the mid-level exception (and whether it's still able to be split), Boston might not boast the resources to hook Hayes.
Bottom line: Hayes in an intriguing option depending on his market value. There's not a lot of rebounders available as unrestricted free agents -- unless you want another power forward like Kris Humphries, whose rebounding numbers do make him an intriguing option -- so the Celtics have to at least consider Hayes if bolstering the boards is a priority.