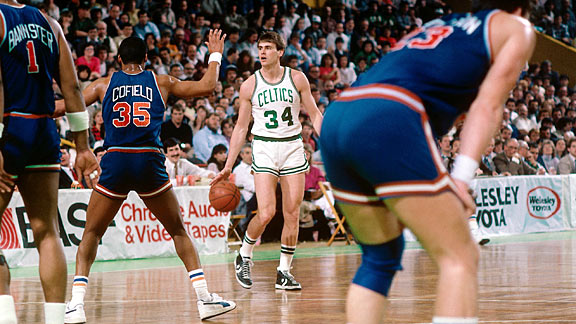 Dick Raphael/NBAE/Getty Images
Dallas coach Rick Carlisle played a small role on Boston's 1986 title team.It's not as if most Celtics fans need another reason to root against the Heat in the NBA Finals, but here's a motive to cheer for the Mavericks if you're looking for a Boston connection: Rick Carlisle.
Carlisle was part of the Celtics' 1986 title team (he averaged 2.6 points per game while appearing in 77 contests during the regular season and logged 54 playoff minutes). With a Dallas triumph in this year's Finals, Carlisle would become only the 11th person to win an NBA title as a player and coach.
What's more, he'll go down as one of the few to have worn the No. 34 jersey in Boston now that Paul Pierce has guaranteed it will head to the rafters once his playing days are over. The full list of No. 34s: Clyde Lovellette, 1964; Bevo Nordmann, 1965; Jim Ard, 1975-1978; Dennis Awtrey, 1979; Carlisle 1985-87; Kevin Gamble 1989-94; Xavier McDaniel 1995; Doug Smith 1996; Frank Brickowski 1997; Reggie Hanson 1998; Pierce 1999-present.