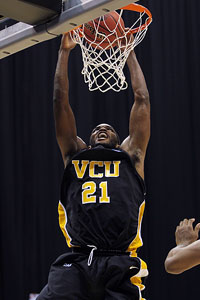 Jamie Squire/Getty Images
Jamie Skeen led VCU to a spot in the NCAA Final Four.The Boston Celtics will host their first pre-draft workout Wednesday at the Sports Authority Training Center at HealthPoint with eyes towards identifying the bodies they could target with picks No. 25 and 55 in the 2011 NBA Draft later this month.
While you'll hear a lot of spin about how pre-draft workouts are typically used to scout for late-round players, the Celtics haven't been bashful about bringing their first-round selections through Waltham in recent years. Let's remember that Rajon Rondo headlined a 2006 workout (fellow first-round choice Randy Foye came through that year as well) and Avery Bradley was one of the marquee names to visit a year ago.
Among those players that the team has confirmed as expected to be in attendance, or were mentioned in previous media reports, include a power forward-heavy list of Butler's Matt Howard, Richmond's Justin Harper, Temple's Lavoy Allen, Virgina Commonwealth's Jamie Skeen, and Wisconsin's John Leuer.
Of that group, here's how they rank on Chad Ford's big board: Harper (30th overall, 9th power forward), Leuer (38, 12), Skeen (61, 16), Howard (94, 24), and Allen (99, 26). Hop HERE

for a full list of the draft-eligible power forwards.
The Celtics have had some success finding big men in the second round during the tenure of president of basketball operations Danny Ainge. Boston drafted a power forward there last year in Luke Harangody, but he was dealt to Cleveland at the trade deadline to free roster space. Semih Erden (2008), Glen Davis (2007), and Ryan Gomes (2005) were other recent second-round selections for the Celtics.
With Davis, Boston's top frontcourt backup this past season, set to test unrestricted free agency this offseason, Boston could be in the market for young backup big men. Ainge has said previously he wants to add more athleticism to the team, but his focus is on adding as much talent to the current core as possible.