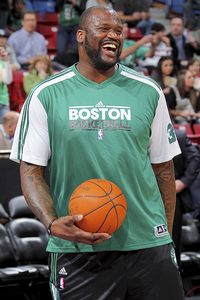 Rocky Widner/NBAE/Getty Images
Had he been healthy enough to play regularly this season, Shaquille O'Neal said he believes the Celtics would have won another NBA championship.After making his decision to retire after 19 NBA seasons, Shaquille O'Neal opened up to ESPN Boston's Jackie MacMullan about his struggles trying to get back on the floor with the Celtics this past season:
In the final weeks of the the playoffs, O'Neal, over the objections of team physician Brian McKeon, had "more than five" cortisone shots in his Achilles in an attempt to play against the Heat.

"Doc (McKeon) kept telling me, 'No, no,' but I wanted to play so badly," O'Neal said. "My feeling was, 'If it ruptures, it ruptures.' The Celtics were so good to me I wanted to do everything I could to get back on the court for them."

Throughout his time on the sideline, Shaq said, he continued to do rehab as well as work on the treadmill and the exercise bike. He swam each evening at the Thoreau Club in Concord and shot a number of late-night free throws in at the Lincoln-Sudbury High School gymnasium across the street from his rented Sudbury home. He lost 35 pounds and was "feeling great everywhere except for that one little spot behind my heel."

Shaq said McKeon recommended surgery that would "clean up" the area around the Achilles, but O'Neal revealed the recovery time would be close to nine months.

"I really, really thought about coming back," he said, "but this Achilles is very damaged and if I had it done the recovery would be so long we'd have same outcome as this last year -- everyone sitting around and waiting for me.

"I didn't want to let people down two years in a row. I didn't want to hold Boston hostage again.

"I'm letting everybody know now so Danny (Ainge) and the organization can try to get younger talent. I would love to come back, but they say once the Achilles is damaged it's never the same. I don't want to take that chance."

O'Neal said his final months in Boston included some of the darkest days of his career because "I just hated to let the city of Boston down. I really grew to love the place. Everyone was so welcoming to me and treated me so great. They believed in me and they took care of me, especially the great people of Sudbury. I love that town."
Click HERE to read the full story.